About this Property:
Mediterranean villa with a pool Krk
(VI-KR-AB-01)
Mediterranean villa with a pool Krk located in a picturesque settlement Dobrinj on the island of Krk, the biggest and most visited Croatian island.
The villa was built and reconstructed on the foundation of an existing antique noble house dating from the beginning of the 20th century.
The ancient construction and traditional appearance of the Krka have been retained in this villa. There are still marks of the 21st century in the villa, mostly in the unique combinations of old and new in the interior and exterior of the villa, with the best furniture, comfort, wide offer and extraordinary quality.
The villa spreads out on 286 square meters, with 4 rooms, most of which are bedrooms. The whole area is set out on three floors, with the basement are being tied to the wellness, hiding an indoor swimming pool, a sauna and a place for relaxation. The other part of the basement is reserved for wine tasting with a wide range of choices.
The first floor is marked with a big and spacious living room, with a lot of light thanks to the numerous windows in the house. The bedrooms are modernly furnished with king size beds, reflecting just a dash of elegance and glamour. In front of the house there is a nice swimming pool where you can refresh yourself from the summer heat.
Ths villa can accommodate up to 8 guests.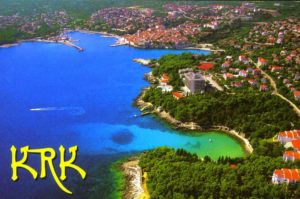 Special offer for 2020.
20% on all prices
Prices in 2020. in Euros per day:
January 8th – April 1st / 290€ / 232 EUR
April 1st – June 1st / 340€ / 272 EUR
June 1st – July 1st / 400€ / 320 EUR
July 1st – September 1st / 500€ / 400 EUR
September 1st – October 1st / 400€ / 320 EUR
October 1st – November 1st / 340€ / 272 EUR
November 1st – December 12th / 290€ / 232 EUR
Minimum stay during the whole year is 3 days!!
Area of 405.78 k m2, with the neighboring island of Cres, makes it the largest Croatian island. It is situated in the Kvarner Gulf and it is the northeast island in the Adriatic Sea. Because of its rich cultural heritage, Krk is even called the cradle of Croatian culture; in the early 20th century, it was also called the sixth continent. The island of Krk is situated in a very good geographical position. Krk's bridge connects the island with the mainland and it is not far from the town and port of Rijeka. In Omišalj, on island Krk, is also the Rijeka airport. The island is connected by ferry to the neighboring islands of Cres and Rab.
If you want to know more about the island of Krk, click here: Island of Krk
If you are interested in spending active vacations, check our offer here: Excursions, trips and adventure Sports