About this Property:
Traditional Stone House for sale, Old Town of Dubrovnik
(H-00-DU-1)
Traditional Stone House for sale, Old Town of Dubrovnik overlooking the Old Town of Dubrovnik and the sea. It has 160 sq m + 30 sq m of basement (with windows) that can easily be adapted into a living area. There is also 362 sq m of exterior.
House is located in the peaceful and quiet part of the city. Distance to the Old Town of Dubrovnik is only 15 minutes by foot.
The ground floor has 3 rooms, a kitchen with a dining area and a bathroom.
Upstairs, there are 3 rooms, a kitchen and a big bathroom.
Outside there is a big terrace with a barbecue and a wonderful green garden that surrounds the house. The house is in very good condition and has central heating and air conditioning installed.
All papers are orderly.
The house is located in the third row from the sea, 250 m from the beach. This property is prefect for you, if you are searching for clean nature and crystal clear sea to enjoy in.
Energetski certifikat je izrađen.
Energy Consumption Certificate is obtained.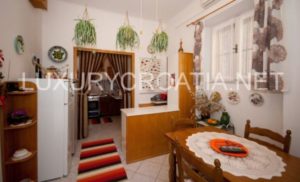 The walled city of Dubrovnik was described by George Bernard Shaw as "paradise on earth". The old city is a protected UNESCO World Heritage Site and is surrounded by spectacular fortified walls up to 25m high and 6m thick. Founded in the 7th century on a rocky island called Laus, it later became known as Ragusa.
If you want to know more about Dubrovnik, click here:
Dubrovnik