About this Property:
Swimming pool villas for rent Hvar island
These luxury swimming pool villas for rent Hvar island are located in a  lovely little settlement near Stari Grad on Hvar and are a part of a  luxury resort which has in total 11 villas but each of them has their own privacy and peace. Amazing sea and lovely Hvar island beaches are only 500 meters away from the villa. Villas are a real piece of typical Croatia architecture with calm oasis, relax and sea view.
The two-story villas with swimming pool, set in a unique residential area in an attractive natural location on the popular island of Hvar,  only 2 km from Stari Grad. These luxury villas are located in the beautiful countryside of Island Hvar, with a beautiful sea view and just a jump away from busy tourist spots. There are 6 villas with 4 bedrooms/ 3 bathrooms, that can accommodate up to 10 people  (8+2). All have a fully equipped kitchen incl. dishwashers, Nespresso coffee machine, etc., a spacious dining room, a cozy living room with a DVD player, flat-screen satellite
TV,  sun terrace with seating area and private pool. All villas are equipped with A/C. Each villa has its own private parking and a large garden.
Restaurants, shops, markets, ATM's and other facilities can be found in Stari Grad which is around 2 km away from the villa, a short ride with a car. The nearest airport is located in Split which is well connected to Hvar with few regular ferry lines. House is air-conditioned and all rooms have an air conditioning unit. WiFi is provided and is free of charge.
The kitchen is equipped with a coffee machine, dishwasher, barbecue, children high chair, fridge with freezer, microwave oven, and a stove. In the living room, you can find an SAT- tv, stereo and sofa bed. At your disposal there is a washing machine, a dryer, cleaning supplies, iron and ironing table and a vacuum cleaner. In the outdoor area, you can find a swimming pool with a size of 30 square meters with chlorine water and sunbeds around the pool for enjoying the summertime. Special events can be arranged in the villa with prior arrangement. Villas for rent Hvar island are a great option for vacation during summer, but also during spring and autumn. Heating is available in all villas.
Price per day in EUR in 2020. for villas with 4 bedrooms ( 8 + 2 ):
April 400 EUR
May 500 EUR
June 600 EUR
July 700 EUR
August 700 EUR
September 600 EUR
October 500 EUR
November 350 EUR
December 350 EUR
*minimum stay is 4 days, except in July and August 7 days
The rates shown include VAT. Stay tax and/or local tax may be charged at check-in
Private parking is provided
Pets are not allowed
Smoking is not allowed
There is a safe at disposal for the guests in the villa
Check-in time from: 4:00 PM
Latest check-out time: 10:00 AM
Reception opening hours: From 7:00 AM to 9:00 PM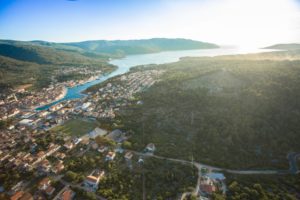 The island of Hvar is located in the Adriatic Sea in the central part of Croatia's Dalmatia. It is the fourth island by its size, also called the "sunny island" due to the many hours of sunshine in the year, almost 2800. The local hoteliers take pride in this, so if it happens that it snows on Hvar, your stay there is for free, however, this is a bet you are sure to lose. Luckily, there is some rain that enables the production of beautiful greens and nature, especially lavender, sage, rosemary, thyme, and some vineyards. Lavander actually happens to be one of the symbols and main exports of the island, so make sure to explore this beautiful plant on Hvar. Some of the main resorts on Hvar island are the Hvar town, Jelsa, Stari Grad, Vrboska and Sucuraj.
If you want to know more about Hvar, click here: Hvar 
If you want to plan your route to Hvar, look here: ViaMichelin
(LH-MP-SH-01)