About this Property:
Stone villa with private pool in Dubrovnik
Stone villa with private pool in Dubrovnik is located only 900 meters from the Old City Walls, old town Dubrovnik and main promenade Stradun. This stone villa is overlooking the sea and it is fully equipped.
Old Town Dubrovnik is less than 5 minutes away by car from the villa or 10 minutes by foot. Within 800 meters from the villa are also supermarket, bus station, restaurants, bars and cafes. The most interesting sights are just 10 minutes walk away from the villa, just like the nearest beach. A station for the famous Dubrovnik cable car ride is 20 minutes by foot from the villa. Ride offers panoramic view of the Old Town and surrounding islands.
This stone villa with private pool in Dubrovnik has five bedrooms for up to 10 persons. The villa has two bathrooms, one with shower and the other with bathtub and an additional toilet. Kitchen is fully equipped with dining area. Stone villa provides a lovely garden with 300 years old fountain, barbecue and outdoor furnished terrace with sunbeds, parasols and outdoor dining area. You can enjoy the sunsets overlooking the Adriatic sea.
This stone villa with private pool has free private garage and parking space in front of the garage if you arrive by car. Dubrovnik bus station and ferry port are just 10 minutes away by car and Dubrovnik Airport is 16 km away.
Price list for 2020 per day for 10 persons in EUR:
01.01. – 14.03. 441 EUR
15.03. – 31.03. 441 EUR
01.04. – 30.04. 510 EUR
01.05. – 31.05. 561 EUR
01.06. – 30.06. 686 EUR
01.07. – 31.08. 1250 EUR
01.09. – 30.09. 686 EUR
01.10. – 31.10. 510 EUR
01.11. – 22.12. 441 EUR
23.12. – 31.12. 510 EUR
*minimum stay is 5 days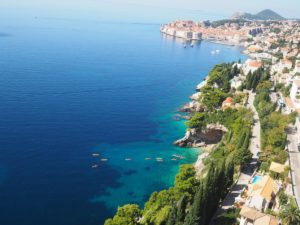 If you want to find out more about Dubrovnik, you can read about it on our site.