About this Property:
STONE HOUSE FOR SALE, RENOVATED, SIBENIK AREA
(H-RO-SK-JH)
STONE HOUSE FOR SALE, RENOVATED, SIBENIK AREA is composed of two duplexes with two bedrooms, with private entrances and private access to the gardens with a view over the valley. The old stones will bring coolness during the summer days.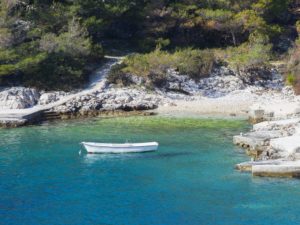 The gardens are equipped with a barbecue of local stone and there is water supply. The gardens are connected by a stone stairway. The building orientation is ideal and there are parking spaces for 3 cars.
The residence satisfies all the qualities needed to offer optimum profitability (quietness, swimming-pool, outdoor layout, close to top tourist attractions, close to access to motorways, airports …)
Nature-based tourism that is expanding steadily, associated with the proximity of the N.P. of Krka and of the sea, give the property an optimum rental return.
The garden of duplex A measures 165 m2. It has a swimming-pool of 18 m2 and an outdoor shower. The garden has a terrace that starts as soon as you go outside ; the terrace surrounds the swimming-pool and stretches to the outside kitchen that is planned at the foot of the perimeter wall.
The other part of the garden is covered with grass and a few fruit trees provide shade.
Duplex B has got a 30 m2 terrace. An outdoor grill is planned as well as water supply.
The floors are made of smoothed concrete.
The bathrooms are tiled, equipped with showers and sinks of a standard quality.
The kitchens are fully equipped.
There is electrical heating in the bedrooms and on the ground floors.
There is a wood stove in each duplex.
The house will be delivered ready for immediate occupation and totally completed within six months following the acceptance of the plans (the documents are in order and the permits are obtained)
If you want to know more about Sibenik, click here: Sibenik.
Find out here information about buying property in Croatia – Buying procedure, Costs and Fees