About this Property:
Stone house for sale Island Pag
Stone house for sale Island Pag has 200 sq.m. and it is located in the old town of Pag. Sea is located just under 200 m from the stone house for sale and about 100 m from the main square. Stone house for sale is divided into 4 floors and has usable attic. The ground floor of the stone house for sale Island Pag consists of an open floor plan with 2 bathrooms. 6 upstairs rooms are on the left and right side in relation to the centrally positioned staircase. Beautiful panoramic sea view extends from the attic floor of the stone house. It is the biggest stone house in the neighbourhood with a possibility of a penthouse terrace. Stone house needs to be renovated. The price for stone house for sale is 150 000 EUR.
Pag is an island with the longest coastline located in the north part of the Adriatic Sea, fifth by its size in the Croatian coast. Pag island is unique because it is the only island that is administratively divided between two Croatian counties, the Lika-Senj and Zadar county.There are many small villages and destinations to visit on the island, but the most notable cities are Pag and Novalja. Novalja is located in the north of the island and has recently became famous because of the Zrce beach, one of the biggest summer party zones in Europe.
Pag Island is quite different from other Croatian islands in the Adriatic. That's mostly because of the stony look and the stone white that ocuppies over 85% of the islands surface. It is therefore not surprising that it has a nickname as the "Island of Rock". Pag can also take pride in its rich cultural heritage. Women from Pag contribute here with their handmade lace, a unique handicraft that only a native could produce as skillfully as they can. Lace making originates from the 15th century when it was created for the Benedictine church that had a school of lace. The nuns, luckily, managed to save and collect their work for 150 years which has now been declared as the Croatian cultural heritage. This lace is unique because there are no blueprints or templates into making it- the only way of preserving this production for years have been passed down through generations by word of mouth and practice.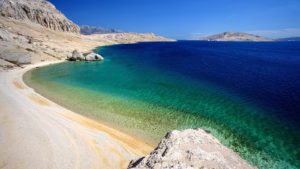 Find your route to Island Pag here.
Read more about Island Pag here.
Read more about this property here Croatia island Pag sea view house for sale.