About this Property:
(KO-UT-01)
Seafront Land for sale on the Korcula Island
SOLD!
NEW OFFER: Seafront land for sale on the Korcula Island. It measures 1000 sqm. 500 sqm of the land is in building zone, with road access direct to the land. Great and sunny location, close to Vela luka town.
Korcula is an island in the Adriatic Sea, in the Dubrovnik-Neretva County of Croatia. The island has an area of 279 km2 (108 sq mi); 46.8 km (29.1 mi) long and on average 7.8 km (4.8 mi) wide — and lies just off the Dalmatian coast. Its 16,182 (2001) inhabitants make it the second most populous Adriatic island after Krk and the most populous Croatian island not connected to the mainland by a bridge. The population are mainly ethnic Croats (96.77%) who have been inhabiting the island from the 7th century AD.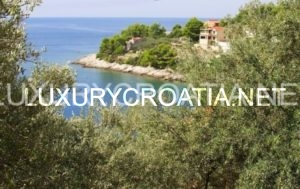 This is one of the most densely wooded islands in the Adriatic. The landscape of the island of Korcula is enriched by olive groves and vineyards which represent a traditional source of life and income for the population of the island of Korcula.Korcula is considered as the pearl of the southern Dalmatia and offers to its visitors picturesque walled old town of Korcula, magnificent coastal panoramas, dreamlike fishing villages and stunning coves. The coast of the island of Korcula is very indented with a large number of bays and coves. It's north shore is rather low and easily accessible with several natural harbours: Korcula, Banja, Racisce, Vrbovica, Babina and Prigradica. The island of Korčula represents a unique fusion of beautiful nature, thousands of years of cultural tradition and history, and modern tourism. Numerous beautiful beaches and bays, luxurious hotels and summer houses, centuries old olive groves and vineyards, and ancient towns and villages on the island which seem as if they have remained lost in some long past time attract tourist from all over the world to this island.
If you want to know more about Korcula island, click here: Korcula island