About this Property:
Sea view villa with pool in Dubrovnik
This sea view villa with pool in Dubrovnik is located only 1 km from Old Town of Dubrovnik. It accommodates up to 10 persons.
Vila with sea view in Dubrovnik has 4 bedrooms and it is perfect for up to 10 persons. Fully equipped kitchen will make your stay at this sea view villa even more perfect. Kitchen has refrigerator, oven, microwave, water kettle, coffee machine and toaster. Sea view villa has private outdoor pool with sunbeds and parasols. While enjoying the sun on the terrace, you will also have view of Walls of Dubrovnik on your right. Bathrooms in this sea view villa have either shower or bathtub. Ironing facilities are also at your disposal.
The grocery shop, bakery and cafes are just 170 m away from this sea view villa with pool in Dubrovnik. Dubrovnik is just 1 km from the villa and the closest bus station is just 250 m away. If you want to take a famous Cable Car ride to Dubrovnik, station is just a short walk from the villa. Main bus station and ferry port are just 5 km, while Dubrovnik airport is only 20 km away from the villa.
Price list per day in 2021. in EUR:
01.04. – 30.04. 450 EUR
01.05. – 31.05. 550 EUR
01.06. – 24.06. 700 EUR
25.06. – 30.06. 800 EUR
01.07. – 05.07. 970 EUR
06.07. – 24.08. 1200 EUR
25.08. – 31.08. 970 EUR
01.09. – 05.09. 900 EUR
06.09. – 19.09. 800 EUR
20.09. – 10.10. 750 EUR
11.10. – 31.10. 600 EUR
*Minimum stay is 3 days.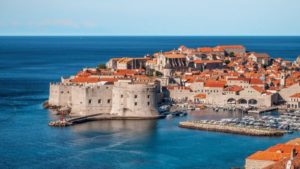 You can read more about Dubrovnik on our travel blog.
Find your route to this sea view villa with pool in Dubrovnik here.