About this Property:
Sea view villa with pool, Brac island
(SV-PP-BI)
Sea view villa with pool, Brac island is situated in the eastern part of this beautiful Mediterranean place filled with plant life and trees. The center is accessible by few minutes on foot and everything is on hand. The villa can accommodate up to 14 guests (12 adults and 2 children). Outside the villa is a private garden with a spacious swimming pool, sundeck area, lounge, fireplace and a Jacuzzi. In front of the house is a large terrace with big table for eating and a panoramic sea view. The property is renovated in 2010 and fully equipped with modern furniture and all the necessities guests will need.
The interior consists of 5 bedrooms. Two of them with two single beds, one with a large double bed and two of them with a king size bed and one single bed and in the room. In there you will also find a living room with sofa bed, two kitchens with dining area and bathrooms.
Free WI-FI and air conditioning throughout the property.
Free parking.
Pets are not allowed.
Distances:
Pebble beach-2km
Sumartin-2km
Bol-16km
Check in: after 4 pm
Check out: before 10 am
Prices in 2018, per day/€
May 19th-June 1st/ 475€
June 2nd-June 15th/ 575€
June 16th-June 29th/ 665€
June 30th-August 24th/ 840€
August 25th-September 7th/ 665€
September 8th-September 21st/ 575€
September 22nd-October 5th/ 475€
October 6th-November 1st/ 400€
SPECIAL OFFER, DISCOUNT FOR REMAINING PERIODS IN 2018, per day:
June 1st-June 23rd/460€
August 18th-August 25th/500€
September 1st-September 7th/520€
September 8th-September 22nd/460€
September 22nd-October 5th/400€
Minimum stay during June and September is 5 days, arrival day is any day of the week. Minimum stay during the season (July,August) is 7 days.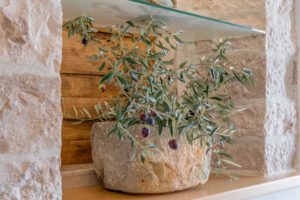 from June 2nd-September 21st / arrival and departure from Saturday to Saturday.
A refundable damage deposit of 500€ is required upon arrival.
If you want to know more about Brac, click here: Brac.
If you are interested in spending active vacations, check our offer here: Excursions, trips and adventure Sports