About this Property:
Sea view villa for rent Selca
(SE-RE-PB-01)
Sea view villa for rent Selca is a holiday apartment spread out on 3 floors with a spacious outdoor area where there is a terrace with private pool, barbecue with panoramic view on the sea and the mountains. The terrace is also equipped with a 3.5 m screen. On the terrace, there is a mini-ball playground (mini-golf, badminton, football, bocce). One of the best things about this villa is the amazing view over the sea, mountain and island from the terrace, the sea is around 2 km away, a few minutes drive with a car.
The apartment is very quiet, very close to the historic village center, which can be reached in a few minutes. The Villa is particularly suitable for families with small and big kids as they have a movie-room with PS4 pro console and a projector on the lowest floor.
Nearby there are some beautiful pebble and rocky beaches, cafes, restaurants, several coastal villages and by car, you can reach some famous destinations of the island of Brač (Bol, Supetar, Sumartin, Povlja) in a few minutes, up to max. 40 minutes by car.
This villa is located in the building in Selca and there are neighbors above and below you but outside area where the swimming pool is, is only for the guests of the villa. There are two bedrooms which accommodate 4 people and a sofa bed in the living room where two additional persons can be accommodated, making for a total capacity of 6 people. There are two bathrooms in the house. There is also a kitchen and a living room, as well as a terrace with swimming pool and heating options. The kitchen has a dishwasher and stove with an oven. Free WiFi and air conditioning are included.
Price list per day in 2021. in EUR:
01.05. – 31.05. 75 EUR
01.06. – 30.06. 99 EUR
01.07. – 10.07. 125 EUR
11.07. – 30.08. 190 EUR
31.08. – 13.09. 120 EUR
14.09. – 27.09. 99 EUR
28.09. – 29.11. 74 EUR
Minimum stay in July and August: 4 days
Minimum stay in rest of the season: 3 days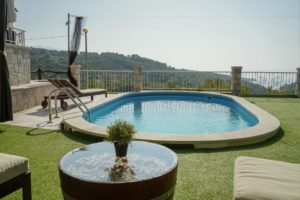 The Brac island is Croatia's third-largest island and the largest island in Dalmatia, located in the center of this Dalmatian region. Not only is it the largest island in central Dalmatia, it is also the highest island of all islands in the Adriatic with the highest peak at Vidova Gora where it reaches 778 meters. It is not problematic to reach the top, either by car or by hiking if you are looking for a bit more active vacation, and when you get there you are free to enjoy the view over to the Zlatni Rat Beach on Brac, Hvar island and others. The weather is very sunny on Brac, with around 2700 hours of sun per year. There is a couple of resorts to visit on Brac, such as Supetar, Bol ( the home to the spectacular beach Golden Horn and one of the most famous in the Adriatic), Sutivan, Milna and Sumartin.
If you wish to know more about Brac island, click here: Brac island
If you want to plan your route to Brac, look here: ViaMichelin