About this Property:
SEA VIEW URBAN VILLAS WITH POOL FOR SALE, ROGOZNICA AREA
(V-PR-AX)
SOLD!
SEA VIEW URBAN VILLAS WITH POOL FOR SALE, ROGOZNICA AREA : Btto living area 153 m2, ntto living surface 129 m2
3 bedrooms
3 bathrooms
High up in the green hills, away from noise and crowd, there are 4 beautiful stone villas with a pool for sale, Each villa offers magnificent panoramic sea view on the islands Vis, Jabuka, even Italy on a clear weather.
Villas spread over two floors: the ground floor and the upper floor.
The ground floor consists of a kitchen, living room and a bathroom. Outside there is a large terrace, barbecue and a pool (33 m2). The first floor consists of 3 bedrooms, 2 bathrooms. Every bedroom has an open sea view.
Air distance from the sea 1.5 km, road distance from the sea 2.5 km.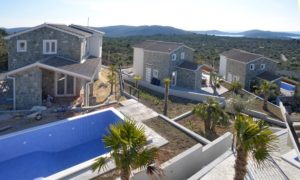 Rogoznica is a quiet but popular tourist village on the coast of Croatia at the end of North Dalmatia, located around 30 km from Šibenik and 55 km from Split and hidden in a deep bay sheltered from the wind. Most of the island is covered with forests, while the centre shows old stone houses, witnessing the whiff of the Mediterranean. It was once a small island called Kopara where Rogoznica was rested, however the island was artificially connected to the mainland, creating a peninsula in the second half of the 19th century. The depth of the bay creates a shelter from the wind and makes it one of the safest harbour on the Croatian coast. It is therefore very convenient to berth small or large boats in Marina "Frapa", one of the prettiest marinas in the Adriatic with a total of 450 berths.
If you want to know more about Rogoznica, click here: Rogoznica