About this Property:
Sea view house for sale in Necujam, Solta island
SOLD!
(H-S-N-A-H)
Sea view house for sale in Necujam, Solta island – House is placed in the second row from the sea (less than 50 meters to the sea). There is car access from the seafront street to the house but needs to be put concrete (neighbors are also interested to participate). Living space of this cozy house is about 100 m2 with an additional 40 meters on the attic floor, and a possibility to remodel extra 30 m2 from storage to living space. Also, it is possible to extend house in footprint so each floor can be 100 m2, total 300 m2 of living space, or more if needed (maximum should be about 500m2).
There are two apartments, and large space on the attic floor which is not finished inside but could be one or two bedroom apartment. The middle floor is two bedrooms apartment with large terrace (about 30m2) and spectacular panoramic sea view of the Necujam bay and west, so sunsets from this terrace are amazing. Below is a studio apartment which faces also west and entrance from the garden level. There is also wine cellar next to this apartment, and another storage space which can be joined to this studio apartment (this storage used to be a water tank, now not in use since there is city water pipeline to every house). Land plot size is 555 m2.
Garden has lemon and orange trees, surrounds the house and gives privacy, there is enough space to construct a pool. There is also an outdoor fireplace with a barbecue. House is located 50 meters from the sea and beaches in a quiet area.
Price is lower than the real value of the house. House is in excellent condition, needs just refreshment (painting, redecorating interior, new furniture, maintaining garden). House is used only as summer home, but there are all conditions for all year living (electricity, city water system, city sewage system, bus station is 100 meters from the house, doctor, and dentist on the island, 5 minutes drive to the supermarket with groceries, gas station is 10 minutes drive), neighbors live there all year.
VIEW FROM THE TERRACE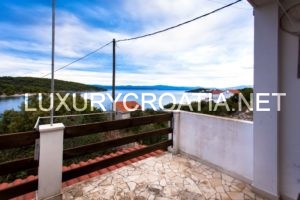 Solta is connected with Split by 6 ferry lines per day in summertime, and 4 in winter time, with extra lines of a catamaran and local boats. Many retirees live on the island all year and enjoy this mild Mediterranean climate, fantastic pure nature of the island, friendly and helpful local people and good infrastructure and good roads of this green small island in front of Split.
If you want to know more about the island of Solta, click here: Solta island
Find out here information about buying property in Croatia – Buying procedure, Costs and Fees