About this Property:
Sea View Building Land for Sale, Maslinica, Solta
(L-FS-MA-01)
SOLD!
Sea View Building Land for Sale, Maslinica, Solta is land with great location for building a vacation home. This building land on island of Solta has total size of 1150m2. This building land on island Solta has a road access, and 149m2 of the road is also for sale with the land. Building land is sittuated only 80 m from the sea. This building land for sale has a spectacular sea view and it is located in greenery on a peaceful location. Sea View building land for sale, Maslinica, Solta has a building permission. This place is proclaimed as one of the most beautiful locations on the Adriatic coast. This land is very good investment, it has everything what you need for building a home away from city rush.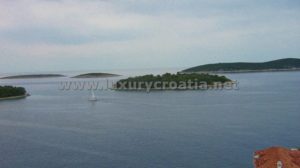 Hrvatski Jezik
Ukoliko trazite spektakularan pogled i svoj posjed u miru okupan suncem i morem – u ponudi je lijepa parcela s ishodovanom dozvolom za gradnju u lijepoj Maslinici, drugi red od mora. Zemljište ima površinu 1150 m2 a u vlasništvu je i put širine 149 m2. Ovo mjesto s pravom slovi kao jedno od najljepsih lokacija Jadrana.
The small island of Solta is an island in the central Dalmatia in the Adriatic Sea. It is situated only 9 nautical miles south away from Split, west of the island Brac and east of the Drvenik islands. Due to its close position to Split and regular daily ferry lines or catamaran arriving to the harbor of Rogac, it has good connections to the mainland of Croatia and furthermore to the rest of the Europe. There is a number of settlements for you to base yourself in Solta.
Maslinica represents an unusual contrast of the traditional Dalmatian stony houses and a magnificent  sight of a baroque castle with a tower from the Marchi family built in the 1706. The same family helped in building the Parish church of St. Nicholas located in the same settlement.  It is also the only settlement and port on the west side of the island. There is even a small archipelago in front of it, consisting of seven islets- Polebrnjak, Saskinja, Rudula, Grmej, Kamik, Balkun and Stipanska being the largest one, as well as containing the remains of an old church remains from the 6th century. When the castle was restored and when the marina was constructed, the small village took steps to become the tourist and nautical centre of the island. Maslinica was awarded a national award in 2013 for the best tourist destination in the Adriatic with less than a thousand inhabitants, a true acknowledgment of it's beauty and tourism development.
If you would like to know something about the procedure of buying properties in Croatia, click here: Buying property in Croatia