About this Property:
SEA VIEW 3 BEDROOM RENOVATED APARTMENT IN SPLIT CENTER, FOR SALE
(A-ST-C-IM)
This sea view 3 bedroom renovated apartment in Split center, for sale by LuxuryCroatia.net is ideally located in the wider central area of Split, there is no need to use car as all you need is at walk distance, even the sea and old town of Split.
Apartment is recently renovated in details, from plumbing, electricity to the reorganization of the space and new furniture, doors and windows and shutters, now it is brand new apartment. The best part is panoramic sea view from the sofa. Sitting and enjoying the view of the old town and the sea is priviledge which is rare in this central part of Split.
There are 3 bedrooms and open plan new modern kitchen with dining area and sitting area enjoying splendid panoramic sea view.
Apartment is on the 11th floor (not last one) of the famous and first Split's skyscraper.
SEA VIEW 3 BEDROOM RENOVATED APARTMENT IN SPLIT CENTER, FOR SALE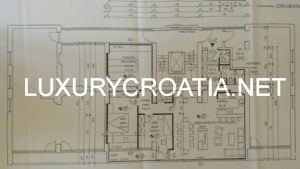 Croatia's second-largest city, Split (Spalato in Italian) is a great place to see Dalmatian life as it's really lived. Always buzzing, this exuberant city has just the right balance of tradition and modernity. Step inside Diocletian's Palace (a Unesco World Heritage site and one of the world's most impressive Roman monuments) and you'll see dozens of bars, restaurants and shops thriving amid the atmospheric old walls where Split life has been humming along for thousands of years.
If you want to know more about Split, click here: Split 
Find out here information about buying property in Croatia – Buying procedure, Costs and Fees