About this Property:
Pool villa for rent in greenery Orasac Dubrovnik area
(VL-OD-SN1)
Pool villa for rent in greenery Orasac Dubrovnik area is located 12 km west from the Old town Dubrovnik, in the middle of the green oasis. This villa features pool, sundeck area and a great cultivated garden with olive trees, grapes and citrus trees. Situated on a plot of 1000 m2, this large home has fragrant Mediterranean gardens and a tucked-away terrace lounge with a barbecue and heated pool. The east-west orientation of the villa gets you maximum sun exposure and the sea view from all front-of-the-house areas and bedrooms. This pool villa has 2 floors.
On the ground floor, there is an open-concept kitchen, dining, and living area and the upper level with four bedrooms comprise 300 m2 of interior space and come topped with a rooftop terrace. Eight guests can enjoy staying at this private villa, and 4 more can be accommodated on pull-out sofas. The style of the Villa rests upon clean lines and bold details. There are two entrances to the villa: from the east, either through the main door or directly from the private garage with parking for two vehicles. As you step into the entrance foyer with an open ceiling, the front and the back of the house are to your left and right.
Support rooms (storage, boiler, laundry, and toilette) are all at the back so that the front relishes inspiring views.
Fine wooden dining table seating up to 12 guests. To the left, a modern kitchen with modern appliances enables you to enjoy a completely self-sustainable stay.
There is a possibility of hiring a private chef.
In the roomy living area to the right, lush relaxation awaits among stylish sofas and armchairs of Croatia's internationally acclaimed brand Prostoria.
The ground floor interior seamlessly transitions into a private terrace and pool area west of the house.
The central staircase in the entrance foyer leads up to the first floor with four double bedrooms. Each room has an en-suite bathroom and a private balcony. With high ceilings and voluminous space, these rooms feel grand and make it easy to accommodate extra guests on pull-out sofas. Front rooms delve in upgraded sea vistas, while the side ones meditate upon serene village imagery. Ready for modern guests who like to stay connected, each room comes equipped with Wi-Fi and Sat TV.
To top it all off, walk up to the open-air terrace on the roof of the villa an enjoy the remarkable and breathtaking panorama views which blend nature, history, and culture into snapshots. Come up to enjoy the views, perhaps a quiet moment, but certainly to get a 360-degree perspective on things.
To make sure you enjoy every moment of your stay, our Villa Manager will welcome you upon arrival at the Villa, as well as remain at your disposal for anything you may want during your stay.
PRICE INCLUDES:
Tourist tax and VAT
Bed linen change once a week
Towels change once a week
Swimming pool maintenance
Internet access
Private garage
House manager
Private Concierge
Price list per day in 2021. EUR:
01.01. – 03.07. 650 EUR
04.07. – 21.08. 850 EUR
22.08. – 31.12. 650 EUR
Security deposit for damage is amount for one night stay (payable upon arrival and returned upon departure).
Minimum stay in top season is 7 days
Minimum stay in rest of the season is 5 days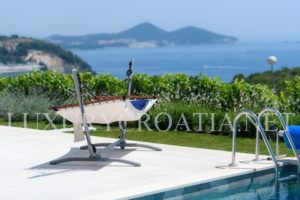 If you want to know more about Dubrovnik, click here: Dubrovnik
Find your route here.
If you are interested in exploring Croatia, click here and check our offers: Excursions, trips, and adventure sports