About this Property:
Panoramic sea view house for sale in a row, Tisno area
(HO-ST-DDZ)
Panoramic sea view house for sale in a row, Tisno area is situated in a quiet street only 30m away from the sea! It has a beautiful sea view from the balcony. House has a basement in which is situated an apartment with a separate entrance, equipped kitchen, washing machine and TV signal. There is high ground where is situated a kitchen, living room and a toilet. On the first floor of the house are two rooms, first one is kids room with balcony and another one is with a double bed. There is a terrace with an awning above the rooms with excellent view. All the rooms inside the house are connected with stairs, terrace and the balcony are covered with fine tiles and the doors and windows on the first floor are PVC material. House is on sale with all the furniture inside. It is possible to swim in the sea in front of the house because the sea is clear. The coast in front of the house is decorated for nice walks and at night there is light. Near is trim track and all the other beautiful beaches, fish market, bank, post office, stores etc.
Living area is 75m2, satellite tv and the heating system (radiator).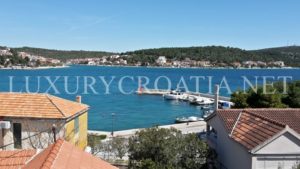 Sibenik is a historic city located in the central part of the Croatian coast on the Adriatic sea where the beautiful river Krka flows into the Adriatic. It is a centre of the county of Sibenik and Knin and it extends along the 100 km long coastline from Zadar to Split while laying under the Dinara mountain in the hinterland area. The city is different from other cities on the coast because it was founded by Croats and not by Greeks, Illyrians or Romans, meaning it is the oldest native Croatian city on the Adriatic. For a while, Sibenik was a seat for the Croatian king Kresimir the fourth so it is sometimes called the Kresimir's city. Sibenik's rich history and appearance was influenced by Venice, Byzantium and Hungary who were tossing Sibenik around in the 11th and 12th centuries, and in the 14th century, the hinterland of Sibenik accommodated the Vlachs.
If you want to know more about Sibenik, click here: Sibenik
If you plan your route to Sibenik, click here: ViaMichelin