About this Property:
Old stone house for sale with sea view, Vis island
(HO-VV-SP-01)
Old stone house for sale with sea view, Vis island is situated in a wonderful location in the center of Vis town, only 40 meters from the sea. The house consists of 4 floors, a tavern, ground floor, first floor and an attic, with total surface of 108 square meters. The upper floors provide an amazing view over the Adriatic sea. In front of the house, there is a yard and a well. The house needs complete reconstruction.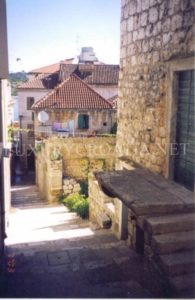 The island of Vis is a small Croatian pearl hiding in the Adriatic sea as the most distant inhabited island from the mainland of Central Dalmatia. The island is a favorite to many who just wish to enjoy their holiday with relaxation, and Vis, still undiscovered by the big masses of tourists, is a perfect destination. It is located in the open sea and was hence a military zone for years, but after this was finished, the island started to come to life and there were many things to show to the outside world. The island's natural beauty and cultural heritage is something that will make you want to stay forever. There is a small archipelago surrounding Vis and it is consisted of a number of smaller islands such as Jabuka, Budikovac, Ravnik, Bisevo, Svetac, Palagruza. If you were to look to the south east, you would find another small archipelago of the island Lastovo, so beautiful it is nowadays protected as a park of nature. The two most important settlements to visit on Vis are the harbour Vis, located on the north- east side of the island, and Komiza bay on the west of the islands. The regular daily bus line between them makes it easy to jump from one to another.
If you want to know more about Vis, click here: Vis