About this Property:
Renovated stone house for sale, town center, Korcula island
(H-VL-F1)
SOLD!
Renovated stone house in town center, Korcula island is located in the very center of the small town Vela Luka near the sea on the island of Korcula.
House was renovated with high standards from the inside and from the outside, and has 3 floors with attick. Total living area of the house is 120 m2. Since the house is heading south and is located in the crowded center, there is no balcony or seaview, but there is beautiful panoramic view on the old town and rooftops of old houses.
The house space is organized so there is each room per floor. On the ground floor is predicted to be a kitchen with dining room and bathroom. On the first floor there is one bedroom with bathroom, and on the second floor there are two bedrooms with bathrooms and there is enterance that leads to the attick on the ceiling of the second floor. It is possible to access the house with a car but it is not possible to park infront. There is public parking place which is available few meters away from the house.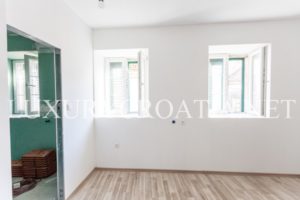 Korcula, the island of Marco Polo
This is one of the most densely wooded islands in the Adriatic. The landscape of the island of Korcula is enriched by olive groves and vineyards which represent a traditional source of life and income for the population of the island of Korcula. Korcula is considered as the pearl of the southern Dalmatia and offers to its visitors picturesque walled old town of Korcula, magnificent coastal panoramas, dreamlike fishing villages and stunning coves.The coast of the island of Korcula is very indented with a large number of bays and coves. It's north shore is rather low and easily accessible with several natural harbours: Korcula, Banja, Racisce, Vrbovica, Babina and Prigradica.
If you want to know more about Korcula island, click here: Korcula