About this Property:
(H-K-P-AB)
Stone house in a row for sale, Korcula
Stone house in a row for sale, Korcula is located in a peaceful bay on Korcula island. It requires complete renovation and adaption. House has ground floor, first floor and an attic with high ceiling. Interior of the house is still relatively preserved. There is a connection to water and electricity.
House is located in a row of old stone houses. It can be accessed from both sides. By the house is a small yard and a garden with a shed. Seafront is only a short walk away.
Korcula the island of Marco Polo is one of the most densely wooded islands in the Adriatic. The landscape of the island of Korcula is enriched by olive groves and vineyards which represent a traditional source of life and income for the population of the island of Korcula. Ita has a lot of beautiful beaches and chrystal clear sea. It is beautiful place to spend your vacation. It is very calm and relaxing place.
Korčula is an island in the Adriatic Sea, in the Dubrovnik-Neretva County of Croatia. The island has an area of 279 km2 (108 sq mi); 46.8 km (29.1 mi) long and on average 7.8 km (4.8 mi) wide and lies just off the Dalmatian coast. Its 16,182 (2001) inhabitants make it the second most populous Adriatic island after Krk and the most populous Croatian island not connected to the mainland by a bridge.
The old city is surrounded by walls, and the streets are arranged in a herringbone pattern allowing free circulation of air but protecting against strong winds. The town's historic attractions include the central Gothic and Renaissance Cathedral of St Mark, the Town Hall and the massive city fortifications. The 15th-century Franciscan monastery with a beautiful cloister is situated on the islet of Badija, near Korčula Town. The island is also famous for beeing the the birthplace of the explorer Marco Polo.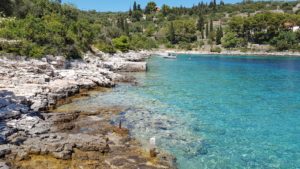 If you would like to know more about buying procedure  please find it here: buying procedure
And about costs and fees please read here: Costs and fees
Find you route to island Korcula here.