About this Property:
(MO-VI-S1)
Modern villa with a spectacular sea view for rent
If you are looking for a  modern villa with a spectacular sea view on the Vis Island for rent, this one is an amazing choice. This beautiful and refined villa is located only 30 meters from the beach. On the ground floor there is modern apartment with 2 double bedrooms and bathroom with shower and a modern kitchen that is fully equipped. On the first floor there are 2 one bedroom units, each with kitchen, bathroom and breath-taking sea view terrace. Below the terrace children's playground with swings and other fun toys. In front of the villa there is a lovely garden with a traditional stone built BBQ,  outdoor table and lounge sitting. There is also a hot water outdoor shower and private mooring for boats. The villa is fully air conditioned and has Washing machine, Satellite TV, Wi-Fi access, Baby cot, Coffee maker, Dishwasher…
Total number of bedrooms is 4 and maximum number of guests is 12.
The villa is located on beautiful Island of Vis. Vis is a small Croatian pearl hiding in the Adriatic sea as the most distant inhabited island from the mainland of Central Dalmatia. The island is a favorite to many who just wish to enjoy their holiday with relaxation, and Vis, still undiscovered by the big masses of tourists, is a perfect destination. It is located in the open sea and was hence a military zone for years, but after this was finished, the island started to come to life and there were many things to show to the outside world. The island's natural beauty and cultural heritage is something that will make you want to stay forever. There is a small archipelago surrounding Vis and it is consisted of a number of smaller islands such as Jabuka, Budikovac, Ravnik, Bisevo, Svetac, Palagruza.  If you were to look to the south east, you would find another small archipelago of the island Lastovo, so beautiful it is nowadays protected as a park of nature.
Modern villa with a spectacular sea view on the Vis Island for rent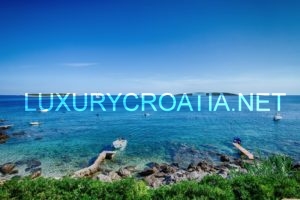 If you are interested in our daily excursions,you can find more information here