About this Property:
Modern seafront villa for rent, Primosten, Sibenik
(RE-PR-SI-6)
Modern seafront villa for rent, Primosten, Sibenik  is situated in the village Bilo, only 5 kilometers from Primosten town. It's a modern, designer villa with a private beach on an exclusive location, crystal clear sea and magnificent view over the islands.
Built in 2014 on 380 square meters of living space, villa is designed as a two apartment villa – a smaller VIP apartment in the attic and one big story apartment. The house can accommodate 10 people in bedrooms, and additional 3 people on sofa beds. The private beach has a boat pier available.
On the ground floor there is a big living room with sofa bed, lounge / dinning area and an exit to a large terrace. On this floor there is also an open kitchen, equipped with cooker, oven, microwave, freezer and dishwasher. Infinity pool, atrium with the greenery and a separate toilet are on the ground floor, too.
On the first floor of the villa there are 3 bedrooms (SAT /LCD TV) and 3 bathrooms, comfortable living room with a fully equipped kitchen and a large terrace with table for 10 people and an amazing sea view.
On the second floor there is living room, lounge area, dinning room, bathroom and a large terrace.  
In the VIP apartment, designated for the service, there is an additional double bedroom and a living room with sofa bed. This apartment can accommodate 3 people.
Outside the villa is a magnificent infinity pool with breathtaking view and complete garden furniture and sun beds.
Villa is completely air conditioned and has free wi-fi internet access.
Billiard table and soccer table are available within villa. Parking for 4 cars is also reserved.
For small children, there is a pebble beach approximately 100 meters away from the villa.
Final cleaning, concierge service and cleaning 2 times a week with towel changing is included in the price.
Primošten is a town in Croatia, and a part of the Šibenik-Knin County. It is situated in the south, between the cities of Šibenik and Trogir, on the Adriatic coast. 97.03% of the citizens are Croats.
In the past, Primošten was situated on the islet close to the mainland. During the Turkish invasions in 1542 the islet was protected by the walls and towers and a draw bridge connected it to the mainland. When the Turks retreated, the draw bridge was replaced by the causeway and in 1564 the settlement was named Primošten after the Croatian verb primostiti (to span).
It is built on a hill and is dominated by the parish church of St. George which was built in 1485 and restored in 1760 close to the local graveyard from which a unique view spreads to the sea and the surroundings.
Primošten is famous for its huge and beautiful vineyards. A photo of the vineyards of Primošten hung in the UN center in New York. Apart from its vineyards, Primošten is also known for the traditional donkey race that takes place there every summer. The largest beach in Primošten is called Raduča, and its smaller part, Mala Raduča, is voted one of the 10 most beautiful beaches in Croatia. The area's vineyards are currently under consideration to become a UNESCO World Heritage site.
Minimum stay in July and August is 7 days.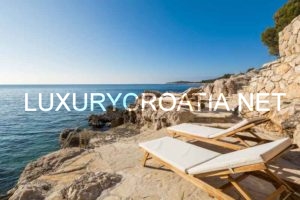 Prices per day 2021. in EUR:
01.04. – 28.05. 660 EUR
29.05. – 04.06. 780 EUR
05.06. – 25.06. 900 EUR
26.06. – 02.07. 1020 EUR
03.07. – 09.07. 1320 EUR
10.07. – 21.08. 1500 EUR
22.08. – 28.08. 1200 EUR
29.08. – 04.09. 1020 EUR
05.09. – 25.09. 900 EUR
26.09. – 01.11. 660 EUR
If you want to know more about Sibenik, click here: Sibenik.
If you are interested in spending active vacations, check our offer here: Excursions, trips and adventure Sports