About this Property:
Modern house with pool for sale Sibenik area
Modern and beautiful house with a pool near Sibenik. Living space of the house is 186m2, and the surface of the land is 1050 m2. House is positioned in a very peaceful area near Sibenik. It has a pool, garden, fireplace, playground for kids, parking and a garage. It can be sold when it is finished, but you can also buy it unfinished. The price of a finished house is 360 000 EUR and for unfinished is on inquiry because it can be bought in different stages of construction. House consists of a ground floor, first floor, and garage. On the ground floor, there is a living room, kitchen, one toilet, one bathroom, pantry, and two terraces. On the first floor, there are three bathrooms, three rooms, and a balcony. It has a private garage and parking space. For heating is provided underfloor heating and for cooling air conditioners, that is included in the price of 360 000 EUR. The house also has an alarm system, video surveillance, and intercom.
There is another exactly same house for sale in the same conditions.
Ref: H-SI-MG-01
Šibenik is a historic city in Croatia, located in central Dalmatia where the river Krka flows into the Adriatic sea. Šibenik is a political, educational, transport, industrial and tourist center of and also the third-largest city in the historic region of Dalmatia. It is the oldest native Croatian town on the shores of the sea.
It is situated along the mouth of Krka on the most picturesque part of the eastern Adriatic coast. As the oldest Croatian autochtonous town it was first mentioned in 1066 during the reign of the Croatian King Kresimir IV.
The rich cultural and historical heritage of the city is visible in the impressive Cathedral of Sv. Jakov [St. Jacob], built by the famous architect Juraj Dalmatinac and is under UNESCO protection. Numerous churches, monasteries, palaces and four fortresses 'frame' the city, and also testify to the perseverance, renunciation, and faith of generations of people of Šibenik. Near the town, there are two national parks – Krka and Kornati whose fascinating landscapes take visitors breath away.
If you need more details about how to buy property in Croatia please read more on the following link: Buying procedure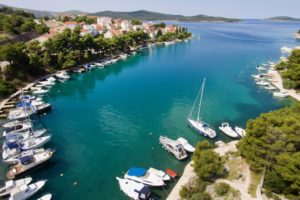 Read more about this property here Croatia Sibenik area new modern villa with pool for sale.