About this Property:
Luxury villa with pool for rent Bosnia and Herzegovina
(VG-GP-BH)
Luxury villa with pool for rent Bosnia and Herzegovina is a beautiful, naturalized property situated on the Croatian border with Bosnia. Magnificent, Croatian beaches are easily reachable, only 40 minutes away by car. The green belt is surrounding the property, enabling premium privacy for our guests, with no neighbors around. The grandiose and impressive property of the villa which spans an endless 40,000 m² estate, is located along the Croatian border in the settlement of Bijaca, in the Ljubuski municipality. Villa belongs to a well-known retired Croatian footballer, a member of the famous team of football players who won bronze at the 1998 World Cup in France. The villa can accommodate up to 14 guests. Outside of this modernly equipped villa, there is a large garden with a spacious infinity pool and sundeck area.  In the garden, for complete hedonism and relaxation, there is an enchanting pool measuring as much as 15×8 m with a built-in jacuzzi and 14 sun loungers, music speakers as well as a fridge. The large, covered outdoor terrace has a large barbecue, and two more portable grills are available as well as a bread oven. With the entertainment facilities available in the villa, guests will not want to take a moment out of the phenomenal property. Guests have at their disposal a football field, a tennis court, a bowling alley, beach volleyball, table tennis, a basketball corner, and a carefully arranged outdoor space for meditation. The architectural design is in symbiosis with nature, with the vineyards and the forest. The property consists of 3 separate buildings and is rented as one villa. Each of the three houses serves as a stand-alone facility, and again brings together one beautiful unit in which everyone would like to stay. The first house has three bedrooms, two of which have double beds and one has two single beds and two bathrooms and one separate toilet next to the living room. The other two houses each have two bedrooms with double beds that share a bathroom and also one separate toilet. All facilities, including the living room, dining room, and kitchen, are modern with all the elements and appliances to comfortably store culinary delights.
The houses are organized into two floors with 7 bedrooms in total. Most of the bedrooms have a king-size bed, and they are located on the upper floors. In each villa, you will find a large living area which is connected to the dining area and fully equipped kitchen. The sophisticated and luxury decoration of houses provides you with the comfort you need. There are 4 bathrooms and 3 toilets in the villas.
Free WI-FI throughout the property.
Free parking place for up to 10 cars
Price list per day in 2021 in EUR:
05.01. – 10.05. 500 EUR
11.05. – 07.06. 575 EUR
08.06. – 21.06. 660 EUR
22.06. – 28.06. 745 EUR
29.06. – 12.07. 890 EUR
13.07. – 16.08. 990 EUR
17.08. – 23.08. 900 EUR
24.08. – 30.08. 775 EUR
31.08. – 13.09. 575 EUR
14.09. – 13.12. 500 EUR
14.12. – 03.01.2022. 990 EUR
Check-in: from 4 pm
Check-out: before 10 am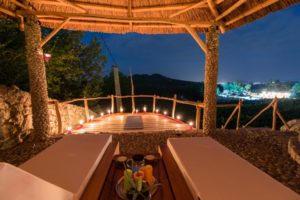 Refundable damage deposit is required (amount of one-night stay).
Minimum stay during the season (June-September) is 7 days, for other periods minimum stay is 5 days.
PRICE INCLUDES:
Tourist tax
Welcome amenities
Daily homemade traditional breakfast
Use of bicycles
Daily basic cleaning
Bathroom amenities
Estate maintenance
Estate manager at guests disposal
If you are interested in spending active vacations, check our offer here: Excursions, trips, and Adventure Sports
Find your route here.