About this Property:
Beautiful waterfront Istrian villa for sale Umag area
This Beautiful waterfront Istrian villa for sale Umag area is located in peaceful picturesque bay nearby Umag.
Well maintained, this old villa in traditional Istrian architecture, will please you with large lush garden, pool, and terraces in shade of palm trees. Prestige location of this villa is one of its main advantages: beautiful sea view, on the water front, walk distance to all amenities of this beautiful historic tourist town. These are surely advantages that put this villa on your priority list for purchase, especially if you are owner of a yacht which can be moored just in a close by marina.
Villa has 6 bedrooms and 4 bathrooms. Total living area of villa is more than 400 sq.m. Land plot is about 1000 sq.m. big, very spacious, green, many trees, cultivated Mediterranean plants, trees and herbs, makes idyllic atmosphere where you will easily relax and enjoy. Price for Beautiful waterfront Istrian villa for sale Umag area is 1 800 000 EUR.
Umag is a coastal city located in Istria,Croatia, and it is known to be the westernmost place in Croatia, around 10 km away from the Slovenian border. Umag is, with its riviera, around 20 km long and it is a popular tourist destination in Croatia. If you are flying to Croatia, the closest city with an airport is Pula, located around 80 km south of the town, and after you've arrived you can take a bus or rent a car to get to Umag. Another option, even closer than Pula airport is to fly to Trieste in Italy, around 50 km away, and you can take a direct bus to get to Umag from there, making it well connected to Europe.
Umag was founded in ancient times, with people coming to an island that later grow to be a peninsula. Istria was ruled by different empires, and therefore so was Umag, who was made into a military base for Istria and North Adriatic by the Roman empire because of its good location. The city is characterized by narrow, cobbbled streets in the center, and the coastline that abounds with bays perfect for relaxation.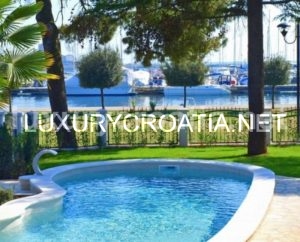 If you would like to know more about buying procedure  please find it here:
buying procedure
Find your route to Umag area
here
.