About this Property:
Luxury Holiday Villa for Rent Island of Hvar
(V-HH-H-01)
Luxury Holiday Villa for Rent Island of Hvar  lies in the very center and historical core of the town of Hvar. It is located only 20 meters from the main waterfront (riva), the sea and the promenade, where yachts and boats from all over the world dock in the summer. The magnificent Baroque stone balcony offers a breathtaking view of the waterfront, the boats in the harbor, Fortica Fortress, as well as Pakleni otoci, a group of islands that gives Hvar a special atmosphere.
The villa was built in 1612, during the Baroque period, when Venice exhibited a strong influence on the entire Adriatic area. Today, it is under the protection of the Institute for the Protection of Cultural Monuments.
There are 2 separate units, a Baroque house and a medieval (Gothic) house. The complex has a floor area of 450 m² on three floors, 5 bedrooms with bathrooms, a large living room with a library and  indoor fireplace, kitchen and dining room. There are wellness facilities (sauna, Jacuzzi, massage room) and a wine cellar.There is indoor pool on the main terrace level.
Baroque House
The main entrance with staircase and the water tank is located on the ground floor. The living room (45 m²) with balcony door, two double rooms (27 m² and 20 m²) – each with a bathroom, hallway, WC and kitchen with dining room (35 m²) and balcony door to the interior courtyard are located on the elevated first floor.
The 200 m² garden is enclosed by a stone wall that is over two meters high. It is covered in Mediterranean vegetation (lemons, oranges, figs, lavender…). There is also a dining table for 10 people as well as garden furniture with deckchairs by the pool.
There is a hallway and three double rooms (50 m², 36 m² and 25 m²) on the first floor – each with its own bathroom.
Medieval (Gothic) House
It is connected to the Baroque house on the ground floor. On the first floor there is the indoor pool (approx. 25 m²) with slide glass doors that can be opened, thus transforming the pool into an outdoor pool connected to the garden.
All areas are heated and air-conditioned, as well as furnished with first class new or antique furniture. You have at your disposal refrigerators, ice machines, wine refrigerator, stove and oven, coffee machine, toaster, dishes, glasses, plates and everything you need for a pleasant stay. All of the rooms are equipped with LCD TV, satellite TV, telephone connection and wireless Internet. In the living room, there is an open fireplace, a library with a desk, DVD with home cinema and a safe.
A housekeeper is at your disposal every day to clean the house and, if you wish, to serve you breakfast, lunch or dinner, and to help you spend a pleasant holiday.
The house is staffed with a housekeeper and superintendent, who will make sure your stay in Hvar is as pleasant as possible.
The house can accommodate 10 people.
Staying in this house, you will feel the history of the town of Hvar to its full extent, as well as all of the scents of the Mediterranean, the rhythm of the summer and entertainment, the flavors of Dalmatian cuisines and Hvar's renowned wine Plavac, the beauty of the sea and the magic of the secluded coves of Pakleni otoci. As a result, you will definitely want to return.
Prices per day, 2020, in EUR:
04.04. – 01.05. 1100
02.05. – 29.05. 1300
30.05. – 03.07. 1800
04.07. – 21.08. 2500
22.08. – 25.09. 1800
26.09. – 31.10. 1100
For the period from 02.11.2018. – 31.03. 2019. and 02.11.2019. – 31.03. 2020. PRICES ON REQUEST.
For seasons from June 1st – September 27th prices are valid for a rental period of at least 7 days.
In case of a shorter rental period, an additional 30% will be added to the price.
Changeover day; Saturday
Check in: 5:00 pm
Check out: 10:00 am
VAT included in the price.
Pets & Smoking not allowed.
Basic services (included in the price):
the use of all facilities – swimming pool, sauna, etc.
water, electricity, gas, regardless of the season
bed linen – changed once a week, if necessary more often
towels changed on a daily basis
soaps, shampoos, shower gel
daily cleaning
final cleaning
luggage delivery from the parking lot to the house and vice versa
Sojourn Tax
all fees and taxes
Additional services (charged extra):
served breakfast at the price of 15 € per person
food, drinks and similar services are organized as catering and charged according to the price list. It is possible to arrange a cook.
transfer from the airport or ferry port to the villa and back
purchase and delivery of food and drinks to the villa
washing, drying and ironing
wine cellar
massage
organization of excursions and the like
car or boat rental
other services upon arrangement
If you plan to have active holidays, we offer variety of daily excursions, boat trips, gastronomic tours, water sport activities and more, find all here: excursions. Also if you will need transfer to the villa or car rental, we can organize it, just mention this in your contact message.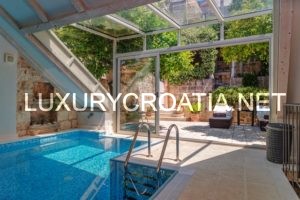 If you want to know more about Hvar Island, click here: Hvar Island