About this Property:
House with view for sale, Klis
(HO-KS-EZ-01)
House with view for sale, Klis is 600 meters square residential-business house for sale, located on a plot of 1200 meters square.
The house is detached and it consists of:
Ground floor level 1: work space, garage, utility room, pantry, tavern and apartment
Ground floor level 2: apartment
Attic: apartment
Size of the plot is 1200 meters square.
Along with the two garages that are part of the house, the first floor has a terrace, and the second floor a balcony, both with a view on Split. As a separate object on an elevated parcel there is a summer kitchen.
The house has a great location in Klis area, only 15 km away from Split. Due to this specific location of the house, you can enjoy a spectacular view from the terrace and watch the sunset and sunrise.
The pathway to the house is asphalted and the enviroment is decorated. There is a possibility of building a swimming pool and an upgrade possibility.
High quality building, the whole house is made up of bricks, the roof with joist and roofing tile, keeping in mind the possibility of an upgrade.
The house doesn't have furniture inside.
House is connected to the telephone, city electricity and city water.
There are 4 parking spaces provided in two garages that are part of the house.
Permits: building permit, usage permit, certificat of ownership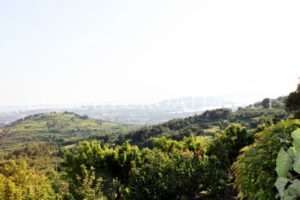 The city of Split is the largest city in the Dalmatian region and the second largest city in whole Croatia. It's considered to be over 1700 years old, making it one of the oldest cities of this area as well. Split is a great connection to other cities and islands of Dalmatia all due to its great location, siting in front of the beautiful blue water of the Adriatic and backed up with impressive mountains.
If you want to know more about Split, click here: Split