About this Property:
Renovated stone house for sale with sea view Split area
Renovated stone house for sale with sea view Split area is completed stone house dating from 1960′s and extended few years ago, renovated and furnished completely. It has 164 square meters.
House is semidetached, on the back side there is large terrace under the mountain rock, there is main entrance to this house on this back side and there is passage for neighboring house. On the front (south) side, garden is divided and not shared. There is possibility to buy more garden land on the south west side. House is connected to the city water supply and electricity. There is septic tank for waste water.
House is oriented to the south, with sun all day and enjoys fantastic panoramic view of the sea, islands and mountain view. House is located high up on the mountain of Mosor overlooking town of Split and Kastela bay on the west. On clear weather days even distant islands are visible. There is no direct car access to the house but nearest is 80 meters away. There is walk path to the house. House is nested beneath large rocks of the Mosor mountain peaks, together with few more houses of this tiny village that is on the walk route of all climbers to the peak of the mountain. Fresh air, tranquility and serenity are guaranteed on this location with no traffic, no noise and no polution. Only clean air, total nature and miraculous views. Here is continental climate though many sunny days but colder temperature because of the mountain. Summers are very refreshing with a lots of sun. House is about 15 minutes drive to Split where there are all shopping malls for all kind of supply.
House sits on a 113 sq.m. land plot. It is equipped with oven for heating with wood, there is large indoor fireplace to enjoy grilling. Total surface of this renovated stone house is 164 sqm., and consist of konoba (room with fireplace for grilling) with terrace of 15 sq.m. On the ground floor is living room with oven for heating by wood, kitchen with dining area, bathroom, and spacious terrace facing south where you can enjoy fantastic sunsets over Split and Trogir and Kastela bay. First floor has 2 spacious bedrooms and 1 small bedroom. On this floor is a bathroom and spacious terrace with amazing panoramic view. Garden of about 50 sq.m. is front of the house on the south side. Here is possible to build pool. On the north side there is small 30 sq.m. courtyard and entrance to the house. House is fully furnished and furniture is in the price. House is used only occasionally as place for relax. Price for Renovated stone house for sale with sea view Split area is 190 000 EUR.
The city of Split is the largest city in the Dalmatian region and the second largest city in whole Croatia. It's considered to be over 1700 years old, making it one of the oldest cities of this area as well. Split is a great connection to other cities and islands of Dalmatia all due to its great location, siting in front of the beautiful blue water of the Adriatic and backed up with impressive mountains.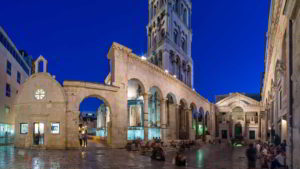 Find your route to Split area here.
Find out more about Split here.
Read more about this property here Croatia Split area renovated stone house with sea view.