About this Property:
House with a stunning sea view on a beautiful location in Jelsa, Island of Hvar
(HJ-H-1)
House with a stunning sea view on a beautiful location in Jelsa, Island of Hvar on exclusive, calm location, only 20 meters from the beach and surrounded with pine trees that provide a nice shading on hot, summer days. House is located about 15 minutes of walk from the town Jelsa on the Island of Hvar. House has two floors and total number of rooms in house is 7 ( 3 bedrooms) . The size of the house is 155 m2. The price also includes 360 m2 of land around the house that includes a garden with a barbecue. There is also a nice, big terrace with beautiful sea view.
More information about location of the house:
The island of Hvar is located in the Adriatic sea in the central part of Croatia's Dalmatia. It is the fourth island by its size, also called the "sunny island" due to the many hours of sunshine in the year, almost 280. The local hoteliers take pride in this, so if it happens that it snows on Hvar, your stay there is for free, however, this is a bet you are sure to loose. Luckily, there is some rain that enabels the production of beautiful greens and nature, especially lavander, sage, rosemary, thyme and some vineyards. Lavander actually happens to be one of the symbols and main exports of the island, so make sure to explore this beautiful plant on Hvar. Some of the main resorts on Hvar island are the Hvar town, Jelsa, Stari Grad, Vrboska and Sucuraj. The busy Hvar town's beauty is particulary recognized even amongst the rich and famous, accounting to the previous visits of stars such as Prince Harry or Jay-Z and Beyonce, so keep your eyes wide in a chance of bumping into some other celebrity. Hvar town is characterized by the beautiful Gothic palaces, marble streets and walls from the 13th century that surround it. There are many beaches on Hvar where you can just leave your towel and jump in the sea for a swim, but the nearby, small chain of islands, known as Pakleni Islands, hide crystal- clear waters, lagoons and beaches. Some of Pakleni islands are St. Clement, Palmizana, Jerolim, Stipanska and Marinkovac. However, most visitors come to Hvar because of its reputation as the best party town in Croatia.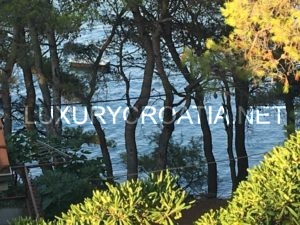 House with a stunning sea view on a beautiful location in Jelsa, Island of Hvar