About this Property:
House for sale with panoramic sea view, island near Sibenik, Croatia
(H-NS-NB-1)
SOLD!
House for sale with panoramic sea view, island near Sibenik, Croatia, a house with a garden and sea view in Sibenik riviera. Built on the plot of 600 m2. The house measures 80 m2 and consists of 3 bedrooms and 1 bathroom. Airconditioned. It has outside fireplace. House is furnished. The beach is less than 300m away. The house contains a terrace with a beautiful panoramic view on sea and islands.
Sibenik Riviera is located in the northern part of Dalmatia. Its inland is encircled by the Dinara Mountain. It stretches along the coast from Pirovac on the west to Razanj on the south and contains more than 200 smaller and bigger islands as well as reefs above sea level.
Culture o fSibenik:
•    St. Jakov Cathedral – the most valuable renaissance monument in Croatia the building of which started in 1431 and belongs to the UNESCO's world heritage. It was built entirely in stone, without the use of other materials and contains more than 70 portraits on its apses.  The small square that surrounds it is one of the most beautiful Croatian squares.
•    The old core of Sibenik with numerous churches, forts and castles from 14-17th century that were pronounced cultural monuments.
•    St.Mihovil fort – the fort from 15th century is located on a 70m high slope above sea level as well as above the old town agglomeration offers an amazing view over the town of Sibenik and the Sibenik archipelago.
•    Museum "Četiti Bunara" (Four Wells) – located on the bottom of one of the old town wells which supplied the town with water, is now one of the most popular concert stages
•    St. Nikola Fort – located on a small island in the canal, at the entrance to Sibenik, from which the town defended itself from the sieges
On this area two National Parks are located: Kornati(archipelago with about 150 small islands) and Krka (river with famous and numerous waterfalls).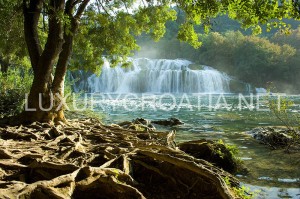 Hrvatski Jezik
Kuca s okućnicom, 300m od plaze. Na parceli je i pomoćna prostorija od 20m2 kao i terasa sa pogledom na more i lokalne otoke. Kuća ima 80m2 i sastoji se od 3 spavaće sobe.kuhinje,dnevnog boravka i kupaonice. Kuća je potpuno namještena, te ima kamin u dvoru.
Energetski certifikat je u izradi.
Obtaining Energy Consumption Certificate is in process.