About this Property:
House by the sea for sale, island Pasman, Zadar
(H-PA-ZD)
SOLD!
House by the sea for sale, island Pasman, Zadar overlooks the Dugi Island and Kornati islands. This house not only it has a beautiful pebble beach in front but it has also a great sea view. While you sit in front of your house or on the balcony you can enjoy the smell of the sea and pine trees, summer breeze and great sea view. This house is only 80 meters from the sea. The ground floor has a large living room, dining room and kitchen, toilet facilities, a garage, and a terrace. On the first floor are three bedrooms, a toilet, and a small terrace. Land consists of a courtyard and parking for the car. House has a 200 m2 of living space and the plot is 240m2. Energy class C.
For the buying process, you can find all the information here: How to buy property in Croatia
You can also check here: Costs and fees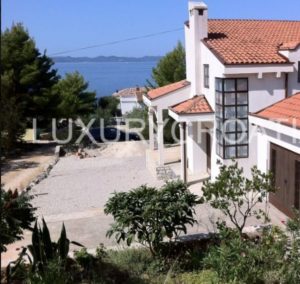 Zadar is a beautiful, 3000 years old centre of North Dalmatia, resting on the coast of the Adriatic sea that will give you an opportunity to testify its vivid history and enjoy the contemporary aspects of its culture today.
The Kornati islands are the most indented island group in the Mediterranean, consisting 89 islands, islets and rocks emerging from the beautiful Adriatic sea. They are located between the islands of Dugi otok, Zirje and Pasman. They are sometimes even called the stone pearls of the Mediterranean, and the protected area of the park counts for a total of almost 220 square km. The park and archipelago itself got the name after the largest of islands, called Kornat, and all of the islands are divided into two groups, the Kornat and Piskera chain of islands. The islands and the ground are not the only value of the park, the waters surrounding the park represent a great value as well. The sea is so clean and translucent, and in it you can find a few different species of corals, a big fond of biodiversity. There is a legend going round about Kornati, it is that while God was creating the world, he was left with some unused white rock.
If you want to continue to read and to know more about national parks, click here: National parks