About this Property:
Holiday house with pool by the sea in Vela Luka Korcula
Holiday house with pool by the sea in Vela Luka Korcula is lovely house located in a beautiful bay of Gradina. This beautiful holiday house is on the western side of the island of Korcula, about 6 km from Vela Luka. The distance from the sea is only 40 meters from the holiday house with pool. There is a shallow pebble beach ideal for small kids and older people. This lovely holiday house with pool is by the sea and near there is a pier for anchoring boats.
House has 2 apartments, total 5 bedrooms, and two bathrooms. This holiday house with pool by the sea in Vela Luka Korcula accommodates 10 + 2 people. There is a new pool in front of the house, also there is a large covered terrace next to the pool to enjoy lunch in shade. House is air conditioned.
There is a parking place for 2 cars and the garage. There is a large terrace in the first-floor apartment. On the terrace of the first-floor apartment, you can find an outdoor fireplace where you can enjoy grilling and preparing food for your friends and family.
Gradina bay is the most beautiful bay on Korcula island due to its azure sea water and green islets which makes unforgettable scenery, truly place to relax in untouched nature.
Capacity: 10 + 2 guests
Pets are welcome, but an extra charge.
Price list in 2020 in EUR for the whole house (10+2):
01.04. – 13.06. 260 EUR
14.06. – 04.07. 330 EUR
05.07. – 11.07. 370 EUR
12.07. – 15.08. 400 EUR
16.08. – 22.08. 370 EUR
23.08. – 29.08. 330 EUR
30.08. – 01.10. 260 EUR
Additional charge for pets: from 6  to 10 EUR per day
Korcula island is one of the most densely wooded islands in the Adriatic. The landscape of the island of Korcula is enriched by olive groves and vineyards which represent a traditional source of life and income for the population of the island of Korcula. Korcula is considered as the pearl of the southern Dalmatia and offers to its visitors picturesque walled old town of Korcula, magnificent coastal panoramas, dreamlike fishing villages, and stunning coves. The coast of the island of Korcula is very indented with a large number of bays and coves.
If you want to know more about Korcula, click here: Korcula
If you like to have active holidays or guided tours, you can check out excursions or other offers here: Excursions, trips, activities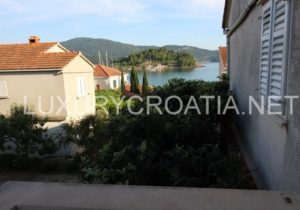 Find your route to the villa here.