About this Property:
(H-SI-VO-OPRV)
First row to the sea house for sale island near Sibenik
First row to the sea house for sale island near Sibenik is located on island Prvic. It has 290 square meters and sits on a land plot of 780 square meters.
House consists of 2 floors. On the ground floor is one apartment, while the first floor features 2 apartments ( on has 45 square meters and the other one has 55 square meters) with balconies and shared terrace. The whole house has total of 6 bedrooms. House also has a stone fireplace and basement. Price for First row to the sea house for sale island near Sibenik is 425 000 EUR.
Sibenik, a gem in the Croatian Adriatic, is situated along the mouth of Krka on the most picturesque part of the eastern Adriatic coast. As the oldest Croatian autochtonous town it was first mentioned in 1066 during the reign of the Croatian King Kresimir IV. Sibenik is a historic town in Croatia, with population of 51,553 (2001). It is located in central Dalmatia where the river Krka flows into the Adriatic Sea. Sibenik is a political, educational, transport, industrial and tourist center of Sibenik-Knin county. The rich cultural and historical heritage of the city is visible in the impressive Cathedral of sv. Jakov [St. Jacob], built by the famous architect Juraj Dalmatinac and is under UNESCO protection. Numerous churches, monasteries, palaces and four fortresses 'frame' the city, and also testify to the perseverance, renunciation and faith of generations of people of Šibenik. Šibenik is a city of culture, the host to the only International Children's Festival as well as traditional events such as Dalmatian chanson Evenings. Near the town there are two national parks – Krka and Kornati whose fascinating landscapes take visitors breath away.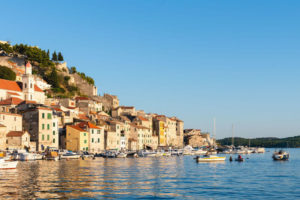 Find your route to island Prvic here.
Find more about Sibenik here.
Read more about this property here Croatia Sibenik island Prvic waterfront house for sale.