About this Property:
Croatia Korcula town area waterfront modern villa with pool for sale
Croatia Korcula town area waterfront modern villa with pool for sale is luxury modern 5 star villa in development and expected to be completed by 2021. It will have 400 sq.m.
Villa is located on the waterfront and enjoys the views of the sea and greenery close to the Korcula town. In front of the property is a beautiful natural beach. Pool will be situated at the back side and provide complete privacy. Villa will have of 5 bedrooms with separate bathrooms. It will feature large open space lounge and kitchen area. Beside magnificent open views, terrace is going to be equipped with BBQ for enjoying meals. Villa will actually be a low-energy house with renewal energy solutions. All of the equipment in the villa will be made of top quality materials. Waterfront villa will be like a little spa heaven with home spa and sauna, steam bath and jacuzzi bathtub, but also a home fitness. Price for this waterfront modern villa with pool for sale is up on request.
SOLD!
LuxuryCroatia.net is Real Estate Agency that has 10 years of experience in sale of all kind of Croatian properties. Our small but dedicated team of experts can search and find your adequate property, if you can't find it in our listings of more than 1500 Croatian properties for sale. We are locals, Croatians, with experience in sales of properties and have visited all Croatian coastal and island destinations and locations, so that we can help you with advice about amenities of location that is of your interest. We know every inch of our country, every village, bay, island, we are proud of Croatian rich heritage and history.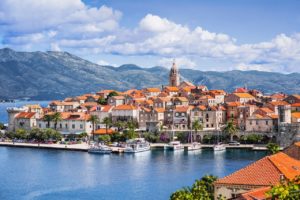 Find your route to island Korcula here.
Find out more about buying property in Croatia here.