About this Property:
Croatia island Korcula seafront villa for sale
Croatia island Korcula seafront villa for sale has 386 sq.m. and it is located just 10 m away from the sea.
Villa is situated on a plot of 650 sq.m. and consists of 4 levels. Each unit has a spacious terrace with open sea view. Main floor of the villa has 2 studio apartments, the first floor has a three-bedroom apartment, while the second floor consists of one-bedroom and two-bedroom apartments. At the fourth level is a a loft. House also has stone paved stairs that lead to the sea and a stone paved terrace. There are 3 parking spaces on the plot and 2 boat moorings. Outdoor area features a fireplace and BBQ facilities. The plot has road access, and it is cultivated with all traditional Mediterranean plants, such as olives, lemons, and figs. Villa is located in a protected bay, ideal for vacations or full-time living. Almost all of the surrounding houses are located in the first row next to the sea so each house has its own beach and privacy. Price for Croatia island Korcula seafront villa for sale is 660 000 EUR.
SOLD!
LuxuryCroatia.net is Real Estate Agency that has 10 years of experience in sale of all kind of Croatian properties. Our small but dedicated team of experts can search and find your adequate property, if you can't find it in our listings of more than 1500 Croatian properties for sale. We are locals, Croatians, with experience in sales of properties and have visited all Croatian coastal and island destinations and locations, so that we can help you with advice about amenities of location that is of your interest. We know every inch of our country, every village, bay, island, we are proud of Croatian rich heritage and history.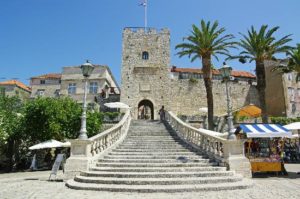 Find your route to island Korcula here.
Find more about island Korcula here.