About this Property:
Country house for rent in Istria, Croatia
(RE-H-IS-CH-CR)
Country house for rent in Istria, Croatia: If you are looking for a country house for rent in Istria, Croatia, you might like this one. This rural vacation home with pool offers accommodation for 4 – 5 guests.
Old, stone romantic villa with pool, surrounded by green lawns, an orchard and a forest, is located in the central Istria, 8 km from the town of Buzet.
Far away from it all, but at the same time only 25 km from the Adriatic sea. House with pool for rent is airconditioned, recently renovated and luxuriously equipped.
Near the property you have a wide choice of sports: trekking, free climbing, flying (paragliding), speleology, you can discover mountain bike routes, walking paths, olive-oil trails, wine routes…
All these possibilities are available within ten kilometers from the house.
The house with pool is secluded, not far from the village Rim where it actually belongs.
It was built in 1886 but has been recently redecorated with special love and care and is surrounded by green lawns, an orchard and a forest.
Primarily it was meant to be a family house for a family with 2-3 children.
During the renovating and decorating there was one guiding principle above all: the family has to be comfortable and relaxed in the house, both the grown-ups and children have to find something that will calm them down, relax and inspire.
That is exactly why only exclusively natural and ecology friendly materials were used for the reconstruction of the house.
There are wood floors throughout the house except in the kitchen and in the bathroom. The walls are mortared in the old fashioned way so the irregularity and warm colours of the walls remind us of our ancestors' calm life.
There are two bedrooms and a reading/relaxing area on the first floor. The "open" attic and old beams give a special romantic touch.
The master bedroom is spacious and pleasant. The children's bedroom is like fairyland and the children just love to stay there.
The kitchen, bathroom and pantry are on the ground floor and are divided from the living room by the wooden staircase leading to the first floor.
Thick stone walls and aircondition units will assure the freshness in the whole house even in the hottest summer days.
The washing machine, satelite TV, DVD, radio, completely furnished kitchen with a microwave, a coffee machine and many other appliances will make your life as comfortable as in your own home.
There is a large terrace and a pool in front of the house followed by lawns and meadows.
The terrace offers a breathtaking view of this paradise where you can take a rest or doze off in the fresh air.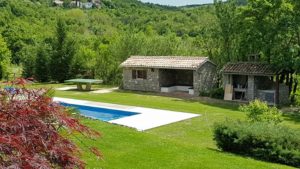 Prices 2018 per day in Eur:
November 1st- December 22nd 2017. 125€/day (min stay 5 days)
December 23rd 2017. – January 8th 2018. 210€/day (min stay 5 days)
January 9th – April 30th 125€/day (min stay 5 days)
May 1st – 31st 145€/day (min stay 5 days)
June 1st – 30th 210€/day (min stay 7 days)
July 1st – August 31st 250€/day (min stay 7 days)
September 1st – 30th 210€/day (min stay 7 days)
October 1st – 31st 145€/day (min stay 5 days)
Minimum stay in period January 1st – June 1st and after October 1st is 5 days
Minimum stay in period June 1st – October 1st is 7 days
Additional cost: Final cleaning 60€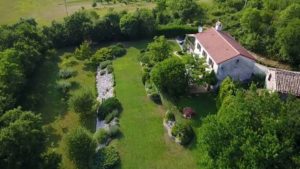 If you want to know more about Istra, click here: Istria, heart-shaped piece of heaven in Croatia
If you are interested in spending active vacations, check our offer here: Excursions, trips and adventure Sports