About this Property:
(CH-WL-S1)
Country house with land for sale in Sinj area
Country house with land for sale in Sinj area is nice and cosy contry house with fruit tree orchard and a lot of other greenery around it would be a nice choice for people who like nature and quiet and peaceful locations. The size of the house is 110 m2 and it has 3 bedrooms. The house is furnished in a traditional, contry style. It is air conditioned. The size of the land plot is 650 m2. There are parking spaces for up to five cars in front of the house. The house has a lovely terrace where you can relax.
More information about the location: the Town of Sinj is located in the heart of the Dalmatian hinterland, at an elevation of 320 metres, and at 30 km distance from the Adriatic Sea. Surrounded by beautiful mountains of Kamešnica, Svilaja and Dinara, It is situated at the edge of the Sinjsko Polje Valley, which is invigorated by the crystal clear and cold Cetina River.
Due to a specific geographic position of Sinj, which is located in a valley, and only about thirty kilometres remote from the sea, the Town's temperate continental climate overlaps with sub-Mediterranean climate. Hot and dry summer days are relieved by cool nights, owing to the nearby mountain ranges. Winter months are abundant in precipitation, when temperatures can be very low.
Country house with land for sale in Sinj area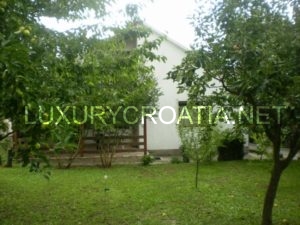 Sinj is just few kilometrs away from Split, only 30 minutes ride. The city of Split is the largest city in the Dalmatian region and the second largest city in whole Croatia. It's considered to be over 1700 years old, making it one of the oldest cities of this area as well. Split is a great connection to other cities and islands of Dalmatia all due to its great location, siting in front of the beautiful blue water of the Adriatic and backed up with impressive mountains. If you want to know more about Split, click here: Split
Find information about buying a property in Croatia here: Buying procedure, costs and fees