About this Property:
Building land for sale, 2nd row to the sea, Rogoznica area
(BL-ZR-MK-01)
SOLD!
Price 199.000 €
Size 557 m2
Building land for sale, 2nd row to the sea, Rogoznica area , only 30 m to the sea, 557m2 on a beautiful location, in peaceful bay with crystal clear sea and 10 year old olives. There is a beautiful open view of the sea right from the property. The land has water and electrical connection, public lighting, asphalt road, building permit and paid duties for residential-business object size of 10×12 m.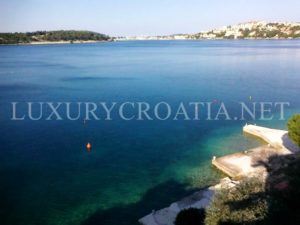 Rogoznica is a quiet but popular tourist village on the coast of Croatia at the end of North Dalmatia, located around 30 km from Šibenik and 55 km from Split and hidden in a deep bay sheltered from the wind. Most of the island is covered with forests, while the centre shows old stone houses, witnessing the whiff of the Mediterranean. It was once a small island called Kopara where Rogoznica was rested, however the island was artificially connected to the mainland, creating a peninsula in the second half of the 19th century. The depth of the bay creates a shelter from the wind and makes it one of the safest harbour on the Croatian coast. It is therefore very convenient to berth small or large boats in Marina "Frapa", one of the prettiest marinas in the Adriatic with a total of 450 berths, but you can also arrive with the car while driving the local roads or highway. The marina is very well equipped, with cafes, restaurants, a sports centre, swimming pools and a nightclub so it is as well, central to the events occuring in this area.The length of the coast of Rogoznica measures up to 54 km, offering a large number of beaches for tourist to choose from, most of which are sandy or rocky, and some hidden well to give you a place just for yourself to enjoy the escape from the crowds and the hassle. Some of the beaches are shallow, making them suitable for families with small children or bad swimmers, and some are suitable for adventurous lovers of the sea.
If you want to know more about Rogoznica, click here: Rogoznica