About this Property:
Building land for sale with panoramic view, Klis, Split area
(L-KL-VT)
Building land for sale with panoramic view, Klis, Split area is a unique chance for building vila or a house. It has a great potential because it is sorrounded with greenery as well as its near historical parts such as Klis fortress, Salona and Diocletians Palace. This beautiful land plot is sittuated near the Split, only 10 min away with a car from the Split city. The land is located in the peaceful surrounding. Land plot has 700 m2. Water city system and electricity system are 50 meters away. There is a possibility of buying 2800 m2.
If you are not familiar with buying precedure in Croatia, click here: Buying procedure, Costs and Fees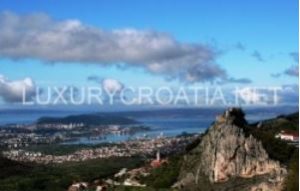 Klis is small place near the main town Split, it is famous by its fortress and the beautiful panoramic view on the city of Split. The Klis Fortress is a medieval fortress situated above a village bearing the same name, near the city of Split, in central Dalmatia, Croatia. From its origin as a small stronghold built by the ancient Illyrian tribe Dalmatae, it became a royal castle that was the seat of many Croatian kings, to its final development as a large fortress during the Ottoman wars in Europe. Klis Fortress has guarded the frontier, being lost and re-conquered several times throughout its more than two-thousand-year long history. Due to its location on a pass that separates the mountains Mosor and Kozjak, the fortress served as a major source of defense in Dalmatia, especially against the Ottoman advance, and has been a key crossroad between the Mediterranean belt and Balkan.
It is famous now because of the TV serial Game of Thrones, where they were making it.
The city of Split is the largest city in the Dalmatian region and the second largest city in whole Croatia. It's considered to be over 1700 years old, making it one of the oldest cities of this area as well. Split is a great connection to other cities and islands of Dalmatia all due to its great location, siting in front of the beautiful blue water of the Adriatic and backed up with impressive mountains.