About this Property:
Beachfront house for sale, Murter, Sibenik
(H-M-B38-K6)
Beachfront house for sale, Murter, Sibenik is located on a stunning location with a beautiful beach and crystal clear water!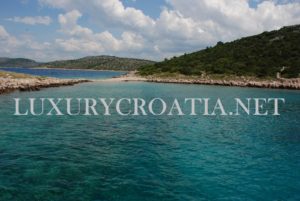 House with stone façade, surface 88.65 m2 (ground floor 43,75 m2 and 1st floor 44,90 m2). Plot of 479 m2, first row to the sea, separated only access road from the beautiful beach! The house has a garden with large pines and other Mediterranean plants. Behind the house is a free space that can be used for various purposes.
Access with wide entrance where is a plateau for two cars. The house has a large terrace facing south, which is connected to the living room in which below is a spacious kitchen. The ground floor consists of storage room, toilet and storage for disposal. Upstairs are two bedrooms and there is a south-facing balcony in the entire length of the house, bathroom with a toilet and a small handy kitchen which overlooks the west.
House is an exceptionally beautiful location, next by the sea, with a beautiful view, close to the beach and crystal clear waters.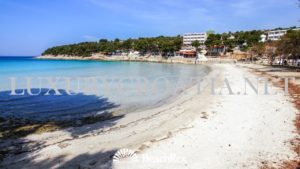 Sibenik is a historic city located in the central part of the Croatian coast on the Adriatic sea where the beautiful river Krka flows into the Adriatic. It is a centre of the county of Sibenik and Knin and it extends along the 100 km long coastline from Zadar to Split while laying under the Dinara mountain in the hinterland area. The city is different from other cities on the coast because it was founded by Croats and not by Greeks, Illyrians or Romans, meaning it is the oldest native Croatian city on the Adriatic. For a while, Sibenik was a seat for the Croatian king Kresimir the fourth so it is sometimes called the Kresimir's city. Sibenik's rich history and appearance was influenced by Venice, Byzantium and Hungary who were tossing Sibenik around in the 11th and 12th centuries, and in the 14th century, the hinterland of Sibenik accomodated the Vlachs. Today, Sibenik has good connections to the surrounding areas, all due to its good road traffic position, and the air traffic which is available from Split's Kastela Airport (45 km away) or Zadar's Zemunik Airport (50 km away). When Sibenik was given the official status of a town in the 13th century, the construction of today's symbol of Sibenik began, the cathedral of St. Jacob.
If  you want to know more about Sibenik, click here: Sibenik
Find out here information about buying property in Croatia – Buying procedure, Costs and Fees