About this Property:
(A-C-IR-1)
EXCLUSIVE SALE: Apartment near sea for sale on Ciovo island
EXCLUSIVE SALE: Apartment near sea for sale on Ciovo island is situated on the south side of Ciovo island only 100 meters from the seafront. Apartment has a surface area of 47 m2 and consists of 1 bedroom, kitchen with dining and living room, 1 bathroom, 1 toilet, hallway and a balcony. Price is 69000 €.
The apartment is less than 10 min drive to Split international airport.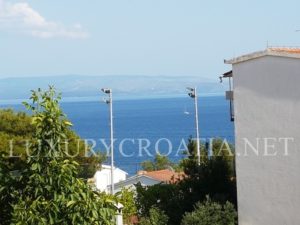 Ciovo is an island situated in middle Dalmatia, connected with the city Trogir by drawbridge, and administratively divided between Split, Trogir and Okrug.
Total surface of the island is 28,8 km2 and there are several villages: Okrug Donji (Lower,) Okrug Gornji (Upper), Arbanija, Slatine, Žedno and Ciovo. Čiovo is about 2 km away from the mainland on the east (cape Marjan); on the north-west, it is connected with mainland by drawbridge (in Trogir).
Trogir is a remarkable small town with 2300 years of tradition, set on a small island on the Adriatic coast of Croatia in the center of Dalmatia. Hiding not so far away from Split, only 27 km, it is connected to the mainland and with another island, Ciovo with bridges.
If you want to know more about Trogir, click here: Trogir
Okrug Gornji is a traditional Dalmatian town and a tourist residence on the western part of Ciovo island, which is connected with a bridge to the city of Trogir. The town is covered in rich Mediterranean vegetation and full of beautiful pebble beaches with enough shallow areas to make them appropriate for families with children. There are several cafes and bars on these beaches which are visited by many young people in the evenings for various kinds of parties. The archipelago of picturesque islets completes the beauty of this town, while numerous small coves and beaches in its near vicinity offer peace and quiet to those who prefer privacy.