Holiday villas that our agency have in rent in Trogir area of Croatia are stunning, beautiful, extraordinary. Most of them are seafront or beachfront, with a lot greenery in the garden, with top amenities like pool, aircondition, parking and private beach access.
Trogir area is one of the most popular tourist destinations of the Middle Dalmatia. Trogir is very old town, dating from Old Greek and Roman times. Great historic heritage is worth seeing in Trogir.
For most of the travelers it is important that Trogir is only few minutes drive from international Split airport. Also Split (second largest city in Croatia with about 250 thousand inhabitans) is about 15 minutes drive by new highway. Trogir has very impressive Old Town with more than 20 church bell towers! Old town has cozy narrow stone streets with small boutique shops where you can find a lot interesting local souvenirs and other things to buy and take home as reminder of your beautiful journey in Croatia.
Trogir is famous for variety of fish restaurants, but they are open in summer season (from May to October usually). Many celebrities come to Trogir with their famous yachts and moor in Trogir. Summer Theatre Festival is also interesting for tourists, famous opera's are held in Kula Kamerlengo (the tower on the seafront in Trogir) which is inside formed similar as Roman amphitheater.
Trogir is connected with old and new bridge with island of Ciovo. Ciovo is famous for beautiful pebble beach which is few kilometers long, and has beach bars and restaurants, shops, sea activities for kids and adults, which all you can find on the beach called Copacabana, which is central part of the Ciovo, settlement called Okrug Gornji (easy to reach from Trogir, turn right after the bridge and just follow the road until you see the beach. There are a lot beaches on Ciovo beside this large one.
Trogir villas for rent, why book villa in Trogir area?
Trogir area includes Ciovo island, connected with bridge to the mainland. The old bridge is in the center of Trogir and new bridge is before Trogir (east of Trogir). Villas for rent on Ciovo are nested in wonderful scenery of lush Mediterranean trees and vegetation that creates fresh air. Sea water is extremely clean and clear and healthy so I recommend to enjoy in the sea water, of course if you are swimmer. Some villas have pools with sea water.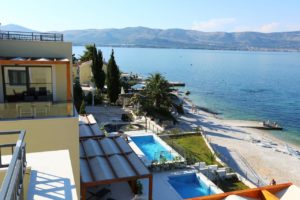 In our offer is complex of 5 villas right on the beach on Ciovo east side. Most of villas have their own pool. If you and your friends or family are large group of about 30 – 40 people, we can accommodate you in these villas on the beach in Trogir area.
A lot more villas for rent in Trogir area we can offer. Trogir area includes also Rogoznica, Vinisce, Razanj, Kanica, Kastela… For any of these destinations we can provide details about amenities, restaurants, what to see and explore. Every of these places has its own story or legend. I will write about those soon in my new posts.
For yoga lovers, we can offer yoga classes in Trogir area villas. Our yoga teachers are young enthusiasts with Ananda Yoga Studio located in Split, near the beach of Znjan. However, you can order classes in villa. Also yoga teacher offer service of Thailand massage and Swedish massage. For more details you can contact us or directly at website of Ananda Yoga Studio.