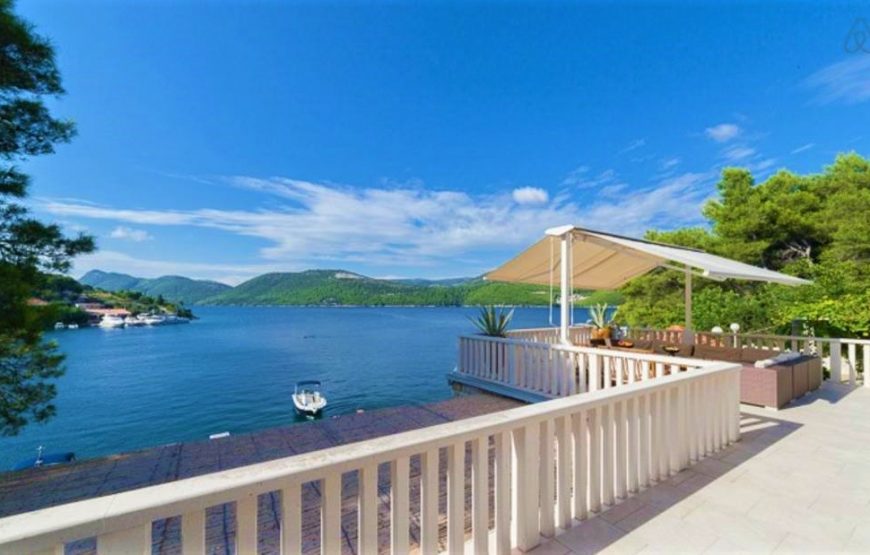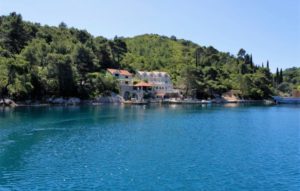 Croatia Dubrovnik area Ston seafront villa for sale is nestled in a picturesque deep bay on the Peljesac peninsula, villa for sale offers unparalleled access to the azure waters and is conveniently located near a marina for yachts.
Accessible by car via a road that leads within 200 meters of the house, convenience and ease of access are at the forefront. The villa spans three magnificent floors, offering a generous living space of 370 square meters. Additionally, the expansive terraces encompass 165 square meters, providing ample space to bask in the gentle coastal breeze and soak in the breathtaking vistas.
This remarkable property, owned by a company, has undergone a comprehensive refurbishment, ensuring a seamless blend of modern luxury and timeless elegance. Immerse yourself in the exotic ambiance, as most of the exquisite furniture has been sourced from Bali, adding a touch of international allure to the interiors.
The ground floor welcomes you with a spacious kitchen, accompanied by a toilet and a storage room, ensuring utmost functionality. Ascend to the first floor, where an open-plan living room seamlessly blends with the kitchen and dining area, creating an inviting space for entertaining. Completing the first floor are a toilet, a storage room, and a large bedroom boasting an en-suite bathroom.
The second floor boasts three generously proportioned bedrooms, accompanied by two bathrooms. Step out onto the expansive 100-square-meter terrace and revel in panoramic views that will leave you captivated. The third floor reveals two additional spacious bedrooms, accompanied by a master bathroom spanning 18 square meters, offering a private sanctuary to retreat and unwind.
Embrace the nautical lifestyle with the villa's private mooring, providing space for two large boats. Additional boats can anchor in front of the property, ensuring ample room for maritime exploration. The villa also offers the opportunity to obtain an Energy Consumption Certificate, further enhancing its desirability.
Priced attractively at 1,200,000 EUR, this exceptional Dubrovnik Ston waterfront stone villa for sale presents an exclusive chance to indulge in coastal living at its finest. Immerse yourself in the tranquility of the bay, savor the mesmerizing views, and create unforgettable moments in this idyllic retreat. Contact us today to embark on a journey of coastal luxury and secure your slice of paradise.
Ston is one of the hidden gems in Europe considering its historic legacy. Ston is most known for three things – its very well preserved town walls, its salt works, and its oysters. It is a little isolated, on the Peljesac Peninsula which is situated 60 km away from the nearest large city, Dubrovnik. The walls of Ston are perhaps what this little town is best known for – and for a good reason. The walls are much longer than those of its more famous neighbour Dubrovnik at 5km in length, making them the longest defensive structure in Europe; they are sometimes referred to as the 'European Walls of China".
Read more about this property here Croatia Dubrovnik Ston Seafront Villa for sale with a Pier.
Read more about Ston here.