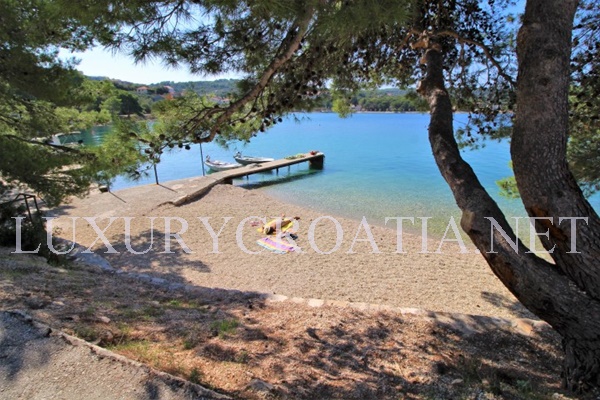 On the beautiful island of Šolta, there is a number of gorgeous villas we can offer for rent to enjoy a relaxing vacation on this peaceful island. Šolta is a small island located across the city of Split, full of wonderful nature and known for its olives and wines, still preserved from the tourist over exploitation but vibrant enough to provide you with your dream vacation.
If you would like to witness the most beautiful sunset, chill in the cristal clear blue sea and relax in the shades of pine wood trees, Šolta is the perfect choice for you.
After reaching the ferry port of Rogač, other settlements in the island are easy to reach, either with a car or the local bus lines driving to the main settlements such as Stomorska, Maslinica, Gornje Selo, Srednje selo and Donje selo.
Did you know that the first settlements on the island date back to the ancient Roman times? Famous Roman Emperor Diocletian used the smallest bay in Necujam as his own fishing pond in the 4th century and there are still remains of this pond on the bottom of the sea. He even had his thermae in the same bay where he would come to bath, not so far from the magnificent palace he built in Split, whose remains are now protected as UNESCO's World Heritage site.
This peaceful island is known for producing a very good quality extra virgine olive oil, as well as an indigenous wine called Dobričić, whose grapes are only grown on Šolta island and you can try both of these goods in the tasting rooms of Stomorska, as well as buy an original and worthy souvenir for your friends and family back home.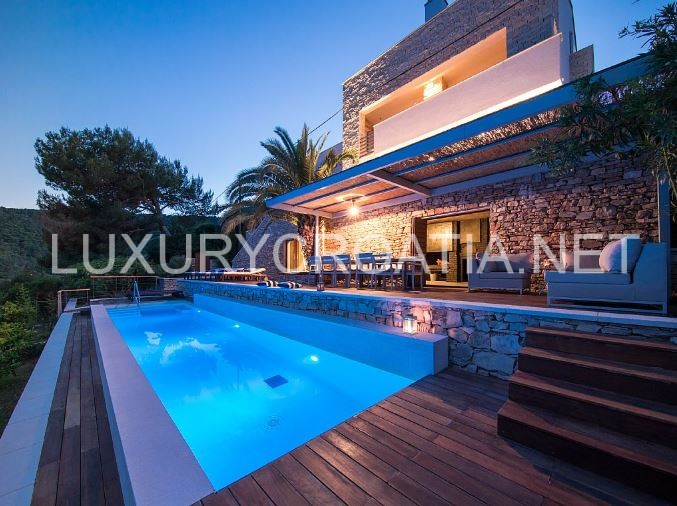 Šolta villas for rent
This waterfront holiday villa on Solta island with magnificent infinity pool and 6 bedrooms is located near the picturesque village of Stomorska, in a quiet bay without traffic, directly on the sea front, offering a luxurious accommodation for a group of max 12 people.
One of our favorite pick on Šolta island is Maslinica settlement, a wonderful place on the west part of the island, with a baroque castle and its tower from the Marchi family built in the 1706., number of small, cosy beaches and a mesmerizing sunset over a small archipelago in front of it, consisting of seven islets. Maslinica was awarded with a national award in 2013. for the best tourist destination in the Adriatic with less than a thousand inhabitants. Maslinica has a great modern marina, and the whole island is a great destination for nautical tourists, with a great number of small hidden bays to discover along the coast. Unlike some other islands in Croatia, there are no snakes on Solta island, which goes great in hand with a number of marked trails along the island, making it also a great destination for hikers or bike riders.
Waterfront castle for rent Šolta
There is a legend which says that the queen Teuta owned a castle on a hill Mir above the bay of Senjska and if the fishermans would return their first caught fish back to the sea, they could request a wish from the Ilyrian queen. Indeed the island position provides a number of various fish specialties that can be found in a first class fish restaurant in the seafront castle for rent in Solta Maslinica, making it a truly special option to organize a wedding or similar special event.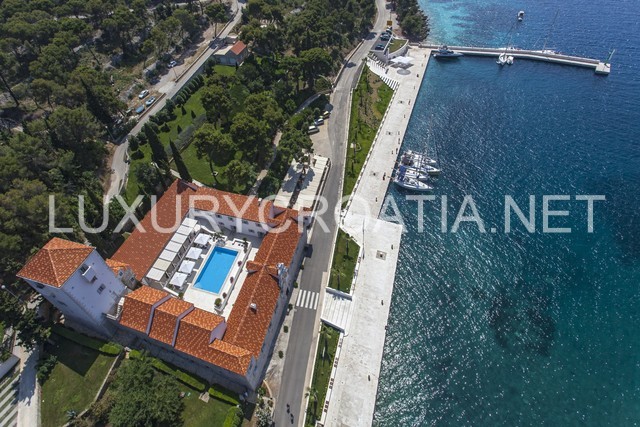 Today, the amazing baroque castle welcomes you in its chambers, renovated into a truly luxurious six suites, covering an area of 1500 square meters. All the rooms have been named after famous people of that time who were somehow connected to the castle or to its builder. You can enjoy the advantages of a large heated pool, terraces, sauna and steam bath, a sun terrace and a large garden, as well as breath taking views of the sea. Marina for yachts in right in front of the castle and castle is just in the center of the old village.
If you are looking for a more affordable accommodation that will still allow you to enjoy all the advantages of Maslinica within walking distance, we recommend this waterfront modern villa for rent in Solta island, which can accommodate up to 10 people. Enjoy the swimming pool and a private beach that are exclusive to the guests of the villa, as well as the surrounding beautiful 400 m2 garden full of Dalmatian plants.
Here is another beautiful 4 star villa for rent on Solta island, that will provide a truly tranquil and picturesque stay. This recently renovated villa is located on the hills of Necujam, only steps away from the crystal clear Adriatic sea. Enjoy your days and nights on the covered terrace with breathtaking pool and sunbathing patio surrounded by palm and olive trees!
First inhabitants of the island were Greeks, who named the island Olynta, onto the Romans who called it Solenta, Solentia, Solentij, leading to today's name, Šolta. This sunny island has something to offer for anyone who chooses to visit and enjoy all the beauties and advantages it has to offer- if you choose Solta as your tourist destination, rest assured that you've made a good decision!
Note that all these beautiful villas you need to book at least 6 – 8 months before your dates, as there are many guests looking for such villas! Contact us as soon as you know your dates to stay, and we'll check availability of the villa you are interested in, or offer you similar one if available.
You can reach Solta with ferry or catamaran, schedule is here: Jadrolinija