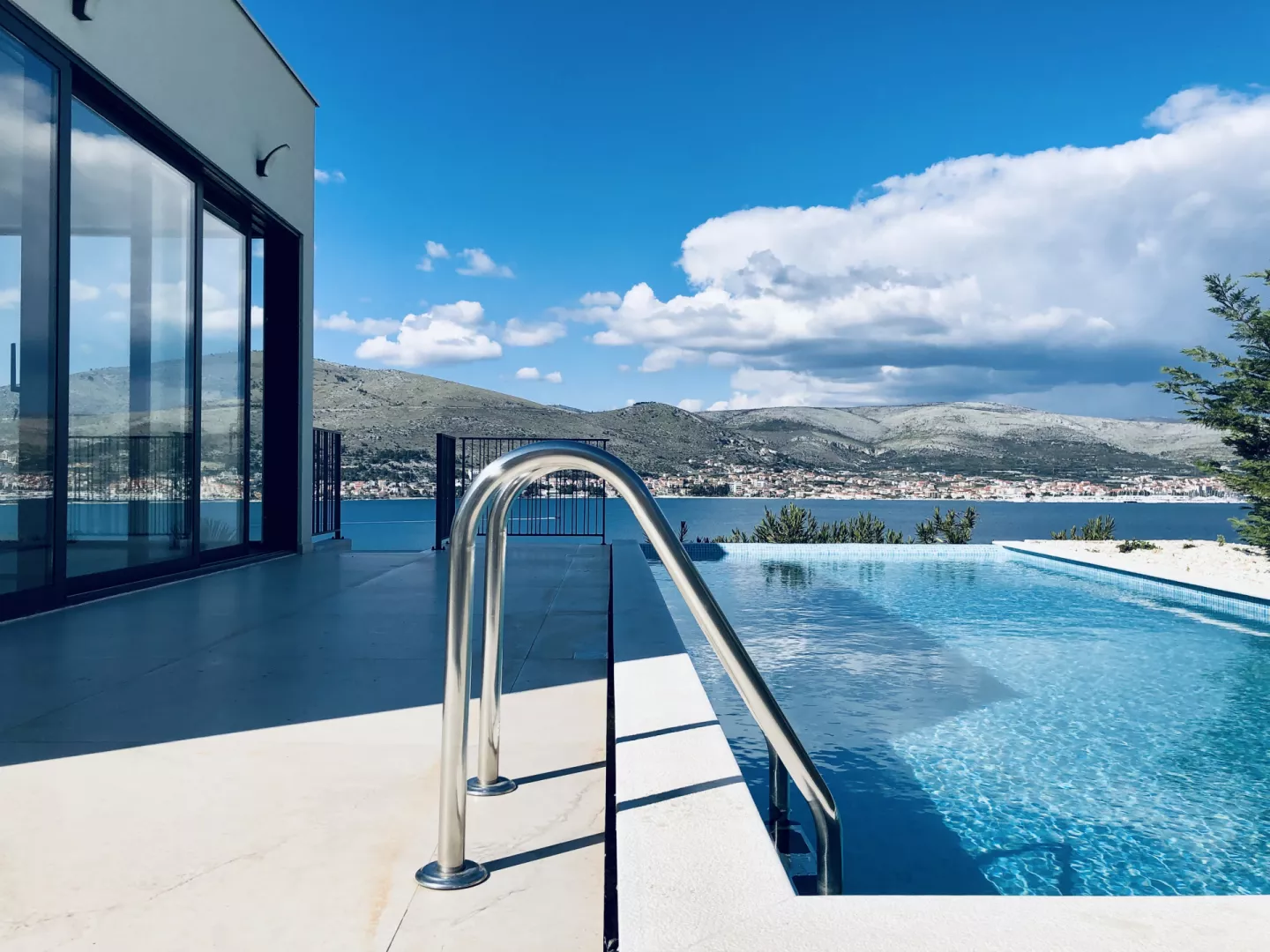 If you are looking to buy Croatia Trogir villa on the sea, you are at the right place. This modern two-story villa has a living area of 315 sq.m. It features a large living room, fully installed kitchen, 4 bedrooms, 6 well-equipped bathrooms, and a two-car garage. There are 2 spacious seafront terraces, and the terrace on the second floor is fitted with an illuminated heated pool. This villa perfectly combines functionality and modern design.
On the ground floor, there are 3 spacious bedrooms and 3 exclusive bathrooms, each with direct access to the sunny bottom terrace. On the upper floor, you will find another bedroom and bathroom, as well as the living and dining room. This richly designed glazed on either side living-dining section with a total area of 63 sq.m., along with the open kitchen, leaves no doubt regarding villa's exclusive style. The extensive windows' fronts provide you with a beautiful view of the azure sea, which creates a perfect atmosphere for a cold drink while relaxing and enjoying that wonderful scenery.
The living room has direct access to the spacious terrace fitted with an open-air dining area and a large heated pool. The total living area is 315 sq.m… The garage is provided with two parking places. The selection of interior materials reflects both the building's simple forms and attention to details. The large-format floor tiles mirror the minimalistic styling that matches the arrangement of the house. This style is emphasized by modern frameless interior doors and picture windows. The well-thought-out greenery concept combined with luxurious lighting completes the modern architecture of the building.
Price for this Croatia Trogir villa on the sea is 1 400 000 EUR.
Read more about this property here Croatia Trogir villa on the sea.