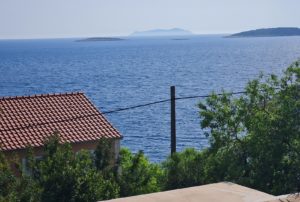 This piece of building land for sale with panoramic sea view in Croatia Korcula island, offers the perfect opportunity to build your dream home, villa or holiday property.
Located on the southern side of the island of Korcula, surrounded by Mediterranean greenery, this 1000 sq.m. plot of land offers stunning panoramic views of the sea. With a slight slope and access for cars from the upper and lower sides, the land is ready for construction once a building permit is obtained. It is possible to build two buildings, and all infrastructure needed—electricity and water—are already available on the land.
We'll be happy to be your project managers for the design and construction of the villa you envision on this beautiful plot of land. For more details about project management, please contact us.
Being in the second row from the sea, the land enjoys the sun all day due to its south orientation and is pleasantly sheltered from cold northern winds in the winter. Plus, there are only a few houses in the area and no one to block the view of the sea. There is also a large concrete plateau for sunbathing just 30 meters away from the land, accessible via a public path.
The land enjoys the sun all day because it faces south. You can enjoy beautiful sunsets over the sea from the land. This location is also pleasant in winter due to its southern position and shelter from cold northern winds.
Vela Luka town is about 15 minutes drive (about 9 km).
With all these advantages in one place, and a fair price, this land is an unbeatable opportunity to create the perfect villa or homes.
This is it. This is the place you've been waiting for. If you're looking for an investment property, this might be it. Luxury villas in this location that are rented to tourists earn up to 100,000 euros per season
If you're interested in buying this property, get in touch with us today!
Read more about this property here Croatia Korcula island building land for sale with panoramic sea view .
Read more about Korcula island here.