About this Property:
Waterfront villa for sale Zadar area Croatia
Waterfront villa for sale Zadar area Croatia is located directly on the beach, with local street between house and the beach. It is surrounded with lush greenery and pine trees so it provides total privacy for owner. Garden is very large and offers a lots of space for pool and additional buildings or house extension. There is garage and large parking in front of it. House is organized in two floors. Ground floor is very comfortable apartment with 3 bedrooms, large living room with fireplace, bathroom, kitchen and storage. First floor apartment has separate entrance by external stairs. This is 4 bedroom apartment with its own kitchen and dining room, living area and two bathrooms. There is beautiful sea view over the trees from this floor loggia and terraces.
House is connected to the electricity and city water system, has air conditioning for cooling and central heating. There is bordering wall all around house and two gates for cars. The beach in front of the house is fine pebble beach with shallow sea water. Zadar is 10 minutes drive away. Zadar international airport is 15 minutes drive away. This villa is perfectly located for those who are looking for privacy and still be close to all city amenities. Price for Waterfront villa for sale Zadar area Croatia is 750 000 EUR.
SOLD!
Zadar is a beautiful, 3000 years old centre of North Dalmatia, resting on the coast of the Adriatic sea that will give you an opportunity to testify its vivid history and enjoy the contemporary aspects of its culture today. Zadar evolved a lot through the years, transforming itself from a prehistoric settlement to an Illyrian village to a Roman municipality and surviving other transformations until it was finally liberated and reunited with the rest of Croatia in 1993. As the Croatian National Tourist Board says, the region of Zadar tells the story of the sources of Croatian cultural heritage better than any book.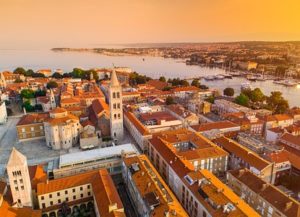 Find your route to Zadar area here.
Find our more about Zadar here.