About this Property:
Waterfront house with pool for sale in Zadar area
Waterfront house with pool for sale in Zadar area has 240 sq.m. and it is located in the first row next to the sea in cozy village 20 km from Zadar.
House is a detached and consist of 3 apartments . 2 of them are 2-bedroom apartments with 70 sq.m. each and the third one is studio apartment of 40 sq.m. Waterfront house features a garage of 40 sq.m., a pool in the yard and a big terrace of 100 sq.m. House is furnished only with top-end furniture and has air conditioning. There are 3 parking places available on the site as well. The whole lot size has 400 sq.m. It was built in 2017. Price for Waterfront house with pool for sale in Zadar area is 300 000 EUR.
Zadar is a beautiful, 3000 years old centre of North Dalmatia, resting on the coast of the Adriatic sea that will give you an opportunity to testify its vivid history and enjoy the contemporary aspects of its culture today. Zadar evolved a lot through the years, transforming itself from a prehistoric settlement to an Illyrian village to a Roman municipality and surviving other transformations until it was finally liberated and reunited with the rest of Croatia in 1993. As the Croatian National Tourist Board says, the region of Zadar tells the story of the sources of Croatian cultural heritage better than any book.
LuxuryCroatia.net is Real Estate Agency that has 10 years of experience in sale of all kind of Croatian properties. Our small but dedicated team of experts can search and find your adequate property, if you can't find it in our listings of more than 1500 Croatian properties for sale. We are locals, Croatians, with experience in sales of properties and have visited all Croatian coastal and island destinations and locations, so that we can help you with advice about amenities of location that is of your interest. We know every inch of our country, every village, bay, island, we are proud of Croatian rich heritage and history.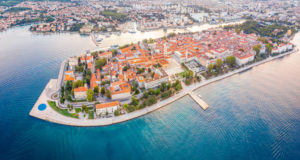 Find your route to Zadar area here.
Find out more about Zadar here.