About this Property:
Villa for sale with a pool and a city view in Split area
(CV-VP-S1)
Villa for sale with a pool and a city view in Split area is beautiful villa located in a small town Solin. It is on a nice and calm location and has a lovely view on the city of Split. The size of the house is 400 m2. It has 7 rooms. The size of the land plot is 1000. The house was built in 2011 and it was renovated in 2015. The house is completely furnished in a stylish and elegant way, for renting to tourists. In front of the house there is a nice garden with a barbecue and a garden furniture, as well as a garden cottage. There is also an outdoor swimming pool, perfect for relaxing on summer days. The price also includes parking space for up to four cars.
This location is not only great place for vacation, but also to live all year long. It is close to a lot of beautiful beaches and the city of Split. Split's location on the sea created some of the most beautiful beaches, from the pebble ones to the sandy ones. The most popular may be the sandy Bacvice beach, located closely to the centre and the ferry harbor. It's a very vibrant beach with low waters, making it ideal for the game of picigin- a game played by the locals that you are sure to see ( and maybe try) if you ever cross this place. The game is even protected as a cultural heritage.
A litlle bit to the south, you can find the Znjan beach, an area made up of a number of bays and cafes where you can just relax and have a cup of coffee in the sun. Split has a beautiful forest park area, a hill called Marjan where you can escape the city rush and relax in the forest.
Villa for sale with a pool and a city view in Split area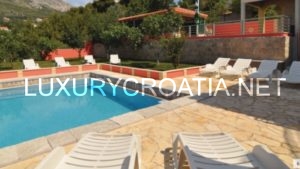 Find out here information about buying property in Croatia – Buying procedure, Costs and Fees