About this Property:
Seafront land for sale on Island Pag
This seafront land for sale on Island Pag has 500 sq.m. and it is located just 70 meters from the sea.
Seafront land for sale has open sea view and there cannot be built something in the front, so the potential house that can be built will have amazing sea view. Seafront land for sale is located just around 6 km from city of Pag. There is road access of 167 sq.m. to the seafront land and it is in shared ownership. The price for the seafront land for sale is 115 000 EUR.
Pag is an island with the longest coastline located in the north part of the Adriatic Sea, fifth by its size in the Croatian coast. Pag island is unique because it is the only island that is administratively divided between two Croatian counties, the Lika-Senj and Zadar county.There are many small villages and destinations to visit on the island, but the most notable cities are Pag and Novalja. Novalja is situated in the north of the island and has recently became famous because of the Zrce beach, one of the biggest summer party zones in Europe.
Pag Island is quite different from other Croatian islands in the Adriatic, mostly because of the stony look and the stone white that occupies over 85% of the islands surface. It is therefore not surprising that it has a nickname as the "Island of Rock".
Stones are however, far from what Pag has to offer to its visitors, going from the ancient monuments and gastronomy delights to the magical nature, pebbly and sandy beaches and bays with clear blue sea along its coastline of 270 km. If you are looking for a sunny vacation, this island is the perfect destination, known as one of the sunniest islands in the Adriatic.
Pag can also take pride in its rich cultural heritage. Women from Pag contribute here with their handmade lace, a unique handicraft that only a native could produce as skillfully as they can.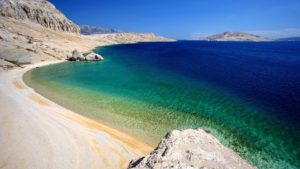 Find your route to Island Pag here.
Read more about buying property in Croatia on our website.
Read more about this property here Croatia island Pag waterfront land for sale.