About this Property:
Seafront land for sale Island Ciovo
This seafront land for sale Island Ciovo has 2814 sq.m. Seafront land is located on Island Ciovo, just 8 km from Trogir and 30 km from Split.
Land for sale island Ciovo is located in the first row next to the sea. Seafront land has road access from two sides. The price for the seafront land is 735 000 EUR.
The city of Split is the largest city in the Dalmatian region and the second largest city in whole Croatia. It's considered to be over 1700 years old, making it one of the oldest cities of this area as well. Split is a great connection to other cities and islands of Dalmatia all due to its great location, siting in front of the beautiful blue water of the Adriatic and backed up with impressive mountains.Split's location on the sea created some of the most beautiful beaches, from the pebble ones to the sandy ones. The most popular may be the sandy Bacvice beach, located closely to the centre and the ferry harbor. It's a very vibrant beach with low waters, making it ideal for the game of picigin- a game played by the locals that you are sure to see ( and maybe try) if you ever cross this place. The game is even protected as a cultural heritage. A litlle bit to the south, you can find the Znjan beach, an area made up of a number of bays and cafes where you can just relax and have a cup of coffee in the sun.
Property market in Croatia became more open to EU citizens who are now able to buy on the same terms as local Croats (except agricultural land and land in national parks). This burning of red tape in the buying process is not only speeding up the property buying procedure. It also encourages more buyers to purchase in Croatia with confidence.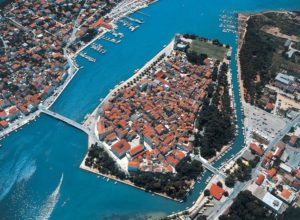 Find out more about Split on our page.
Find your route to Ciovo island here.
Read more about this property here Croatia Trogir area waterfront land for sale.